This post contains affiliate links.

Our real food kitchen training sessions have been on hold for several weeks as we wrap up loose ends and adjust to the summer routine. I'm planning to fit them back in very soon! In the meantime, I want to share with you some of the resources that have been invaluable to me in training my kids in a real food kitchen.
I've already mentioned how we're working our way through Real Food Nutrition and Health by Kristin at Food Renegade, plugging in corresponding lessons from the Gnowfglins eCourses. My younger kids are following along with Real Food Nutrition For Kids, with various other books and resources added where they fit.

There are two other resources I'm finding absolutely indispensable to me as I train my kids in the kitchen: 



Real Food Kids: In the Kitchen from Gnowfglins. 
This book and the corresponding eCourse are just fantastic! In fact, I can't sing the praises of all the Gnowfglins eCourses highly enough! I've been a subscriber for nearly two years now, and they're just a wealth of information and encouragement! I go back to them again and again, even those I've worked my way completely through! Real Food Kids contains all 19 print versions of the Real Food Kids eCourse lessons:
Philosophy of Teaching Children in the Kitchen

Routines, Mixing it Up, and Efficiency

Kitchen Safety

Recognizing Real Food

Basic Strategy for Teaching

Helpful (and not so) Kitchen Tools and Gadget for Kids

Organizing the Kitchen with Kids in Mind

Keeping Kitchen Duties Light, Interesting, and Enjoyable

Babies and Toddlers in the Kitchen

Swing Cooks, ages 3 to 6

Line Cooks, ages 7 to 11

Sous Chefs, ages 12 to 15

Head Chefs, ages 16 to 18

On Their Own: Kid-Friendly Breakfasts

On Their Own: Kid-Friendly Lunches

On Their Own: Kid-Friendly Dinners

On Their Own: Kid-Friendly Snacks

On Their Own: Kid-Friendly Desserts

Bonus: Napkin Origami (napkin folding)
I love that the lessons focus on practical issues like kitchen safety, kid-friendly organization, and giving kids the skills to be independent in the kitchen to their level of capability, all while teaching real food principles! 
Real Food Kids is available for $20 (less for members) with lifetime updates, while the eCourse has several different subscription options.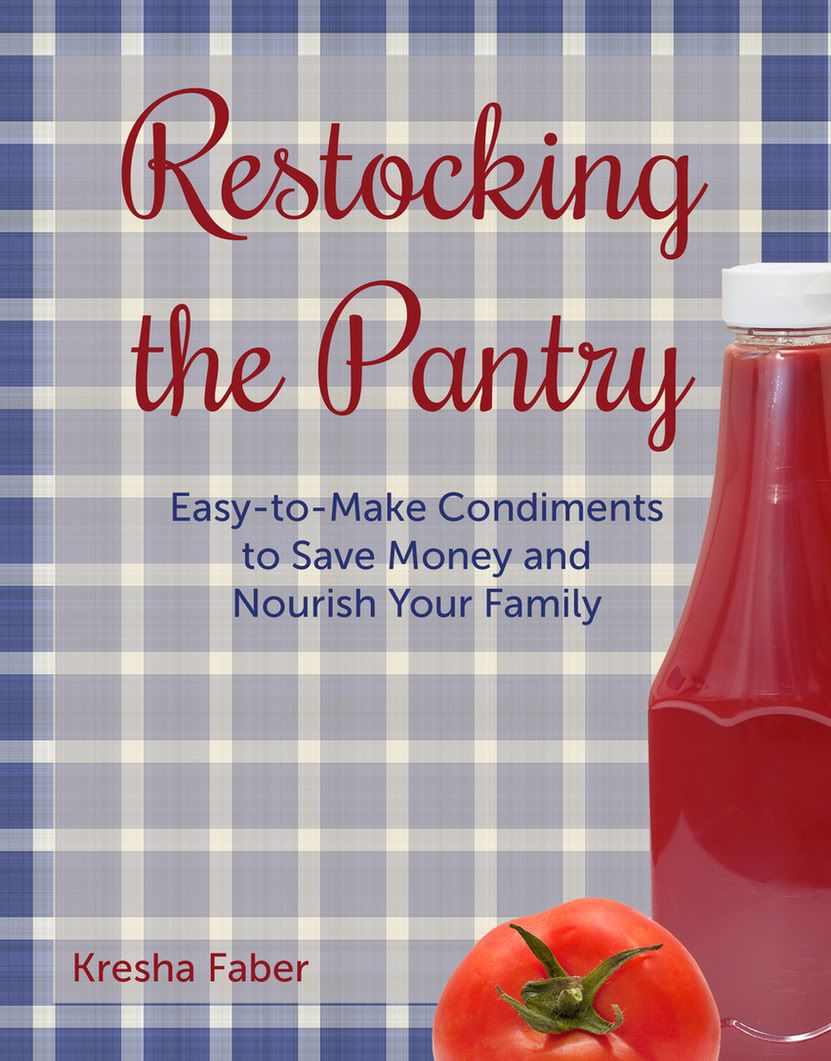 Restocking the Pantry: Easy-to-Make Condiments to Save Money and Nourish Your Family from Kresha at Nourishing Joy. 
This little book is jam-packed with tips and over 55 recipes for common pantry staples like:
ketchup
mustard
mayonnaise
barbecue sauce
Worcestershire sauce
jellied cranberry sauce
classic salsa
hot sauce
steak sauce
teriyaki sauce
popular salad dressings
pickles
and more…
And of course, none of them contain high fructose corn syrup, preservatives, or additives. They're all simple, kid-friendly recipes, and they cover a variety of techniques, including lacto-fermentation. These are perfect to sprinkle into our training sessions! My kids are gaining valuable experience and knowledge in the kitchen while we save money and replace processed items with healthy versions! You can see the
entire table of contents and several sample pages here
.
Restocking the Pantry is available for $9.99 AND you'll receive a $10 coupon code to apply to your next purchase, making the book essentially FREE! 

As we continue on our real food adventure, I'll share more details about how I'm incorporating these resources and what else we're up to in the kitchen! Watch for more updates soon!