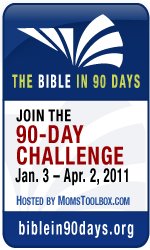 Only five days left!  
How are the Epistles going for you?
I'm excited to hear what kinds of new insights you're gaining. Reading the New Testament so closely on the heels of the Old sheds new light on things, even on familiar passages and books! I'm really looking forward to hearing your concluding thoughts over the next week or two as the challenge wraps up. You might enjoy reading mine from when I first completed the challenge last fall. 
I know I say it every week, but I'll say it again:
no matter where you are on the schedule, stick with it and keep reading! God will bless your efforts, whether you finish in 90 days or not! 
And please email me if you're discouraged or if there's anything at all I can do to help. 
If you're in my group (#21), don't forget to check in on our page over at Mom's Toolbox. This is how they're officially tracking who is actually participating. You must comment on our page there to be counted as an active participant. As always, please email me if there's anything I can do to help or if you have a prayer request. I'm praying for each of you individually, as well as for all who are reading along this time!