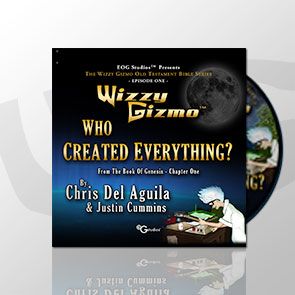 Our family has enjoyed listening to audio books and dramas since my teens were toddlers.
Even now, with my youngest in kindergarten, we still replay old favorites regularly. They're still in demand for car trips and bedtime especially. The whole family are good sports about listening to something new too, so I'm always open to trying out something different with them. Anything high quality, biblically sound, and not too cheesy is fair game for us! 🙂
We've had a couple of new things playing for the last several weeks, one of which is Wizzy Gizmo's Audio Drama One: Who Created Everything? (watch for more about the other one we've been listening to in the next week or so). Wizzy Gizmo produces books, audio dramas, and flashcards that explain the Bible in a fun and engaging way. Their resources are meant to provide tools to help parents put Deuteronomy 6: 5-6 into practice:
"You shall love the Lord your God with all your heart and with all your soul and with all your might. These words, which I am commanding you today, shall be on your heart. You shall teach them diligently to your sons and shall talk of them when you sit in your house and when you walk by the way and when you lie down and when you rise up."
Who Created Everything? is a 36 minute Bible audio drama (adapted from the book) based on Genesis chapter one, with an additional 24 minutes of bonus soundtrack content, aimed at ages 4-12. In it, a group of kids experience the Creation story as written in Genesis chapter one through Gizmovision, the unique invention of Professor Wizzy Gizmo. Gizmovision brings any book to life where it can be experienced with all five senses, as if you are really in the story.
The story switches between the narrator and the dialogue between the kids, Professor Gizmo, and his companions: a hilarious talking duck and dog. The characters experience the days of Creation as eyewitnesses, and discuss what they're experiencing as it happens. There are original songs sprinkled throughout the story, and then grouped together after the story in a "soundtrack".
Our whole family, even those of us outside of the suggested age range 😉 , has enjoyed this fun, creative story! The creators say that one of the benefits of the audio drama format is that people of all ages can enjoy it, and I agree. This benefit is one reason our family enjoys audio dramas like this. They also "strive to communicate the factual, historical record of the Bible, in an exegetical and expository way" and say that listeners will find that the story is layered "in such a way that the entire family will learn rich theological truths and gain a better understanding of the biblical narrative".
I think Wizzy Gizmo has hit that mark with this volume! It brings the text alive and introduces biblical principles and theological concepts in a creative, entertaining way. For example, ex nihilo, the Trinity, how creation testifies about the Creator, and what it means to be created in God's image are all discussed, and my kids picked up on the reference to the first question of the Westminster Catechism right away!
The characters are fun and well-developed, from the unique personalities of each child, to the silly Qwacky the duck and Pepe the dog, to the eccentric but lovable Professor Gizmo. The story is at times silly, but still enjoyable for all ages, and the production quality is high-quality and professional.
I'm excited to see more from Wizzy Gizmo! The company's goals and philosophy align very well with mine, and the credentials of those who are behind it all are impressive!
Who Created Everything? brings the story of Creation alive in an engaging, unique, and most importantly, biblically faithful way. It's definitely a worthy addition to the family discipleship toolbox, and I look forward to future installments!
The audio CD is available for $14.99. Check out samples here, then click the graphic below to see what other homeschooling families thought of a variety of the company's products.

Also, be sure to connect with the company on social media:
Does your family enjoy audiobooks and/or dramas? What are some of your favorites?