We've been using Apologia's What We Believe series since the first book came out a number of years ago.
The Dancer (15) went through the first couple and Karate Kid (13) has been through most of them. As I said in my review of the second volume:
Our worldview is important. Learning to be discerning and to view the world from a Christ-centered perspective are critical skills for our children to learn. A worldview curriculum can be a valuable tool in our discipleship toolbox to help us teach our children how to take Biblical truths and apply them to real life. There are good worldview curriculums on the market, but most seem to be aimed at high school age. Enter Apologia's What We Believe series.
Several weeks ago we received the final volume in the series, What on Earth Can I Do?  from Apologia Educational Ministries. Along with the hardcover text, we received:
Who Is God? focuses on God and his attributes, Who Am I? focuses on developing a healthy self-image based on biblical truth, Who Is My Neighbor? focuses on servanthood and biblical community. What on Earth Can I Do? wraps things up with a study of stewardship.
Like the previous volumes, What on Earth Can I Do? is broken into eight lessons that use multiple approaches to convey the point:
Your Story or God's Story?
Who Put You in Charge?
Will You Be Found Faithful?
Where is Your Treasure?
Where Does Your Time Go?
Whose Life is it Anyway?
Why Isn't it Easy Being Green?
What Happens When the Master Returns?
Each topic is approached from several angles to ensure each concept is grasped well. In addition to the main body of the lesson (called The Big Idea), there are also:
Short fictional stories featuring children working through issues and applying the concepts taught in that lesson. They do a great job of illustrating the ideas and bringing them home! And the follow-up questions to the stories give great talking points for further discussion.
Articles sprinkled throughout the text on topics that tie back to the theme of the lesson across multiple fields: art, math, science, history, etc. This integrated approach gives the student a broader understanding of the main subject and also exposes them to new interests, skills, and experiences.
A section highlighting specific godly character traits that are appropriate responses to applying the lessons.
Stories adapted from Jesus' parables that help students explore what Jesus taught about the kingdom of heaven and what God expects of His people.
Thought-provoking discussion questions, vocabulary words, memory verses, prayers, and more.
Since Karate Kid is the one who has most recently been working through this series, I had him do several lessons on his own. He used the journal loosely, doing some but not all of the pages. I read a couple of lessons to Peanut also, and had her try a few of the junior notebooking pages. We're saving the coloring book for if and when Monkey Boy (5) wants to listen in!
This volume has all the same features that I loved in the others: well-written conversational text, excellent illustrations, and a variety of approaches that all serve to keep interest levels high for multiple ages and learning styles, flexible lesson plans that are easy to work into the schedule, gorgeous notebooking journals for older and younger students, and a well-done coloring book for the little guys.
The photographs, illustrations and charts are wonderful and clearly illustrate the concepts in each lesson. And, just as with the others, I love the "House of Truth", a visual model giving a concrete way of thinking about life in the kingdom of God using a model of a house: foundation, walls, and roof, each constructed of different truths.
The notebooking journals provide a suggested schedule to help break the lessons up into manageable chunks (it differs slightly between the regular and junior versions). The notebooking journal contains blank note-taking pages, "Think About It" questions, vocabulary words, copywork pages, crossword and word search puzzles, prayer and praise journal pages, review pages, mini books to cut out and assemble, and more. The junior notebooking journal has a very similar format with larger font and simpler puzzles, and includes some of the same coloring pages as the coloring book.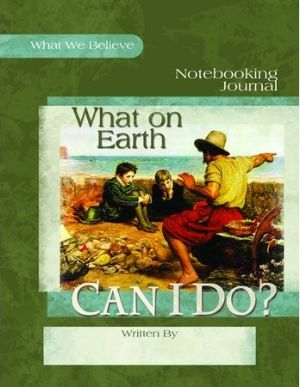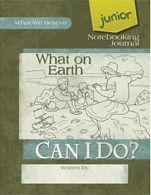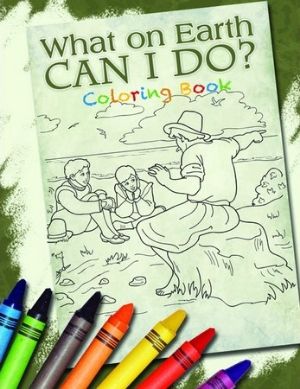 The suggested age range for this is 1st-6th grade, or ages 6 to 14. I do think it's best suited to upper elementary through junior high age, and really, the content is rich enough for even early high school! I don't think Karate Kid at 13 and about to enter eighth grade, is anywhere near too old for it. On the other hand, I feel like Peanut will get much more out of it if I wait until she's in about 5th grade to work through this series. She did okay with the reading, and enjoyed some of the notebooking activities, but the content is so rich that I think she'll more readily grasp it in another couple of years. I think grades 3-8 might be a better suggested age range.
The text is absolutely gorgeous and the content is rich and thought-provoking. The notebooking journal offers a good way to break that content into manageable lessons, reinforce the concepts, and provide a record of the student's journey, while the junior notebooking journal and coloring book are great tools for those who have younger siblings tagging along on the study.
What on Earth Can I Do? can stand on its own, even if you haven't done the previous volumes, but I really appreciate how they build on each other, and highly recommend doing the whole series if time and budget allow! Ideally, I'd work through these during junior high (or around 5th-9th grade if you need to stretch it out longer). I think a student who has worked through this series will have an excellent foundation for further worldview studies in the high school years!
You can read my reviews of two of the previous volumes here:
Then click below to read what other homeschool families are saying about What on Earth Can I Do?

The hardcover text is available from Apologia for $39.00 (click for a sample and the TOC). Both the regular (sample) and junior notebooking journals are available for $24.00, and the coloring book (sample) is $8.00.
How do you teach worldview to your kids?