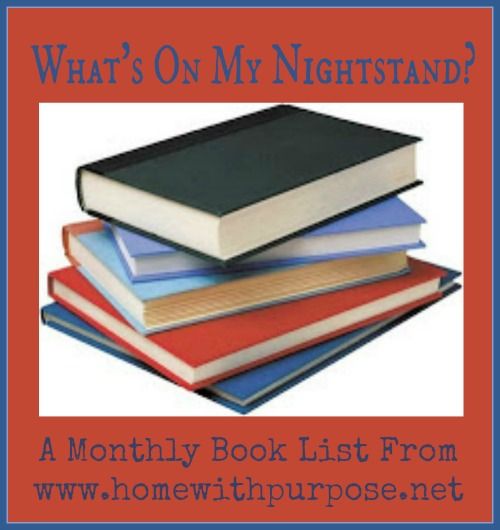 Wow! It feels like I just posted the last update a few days ago! Despite all the busyness of school and fall activities, I actually feel like I had more time to read this month than I have for the last few!
Here's what I've been reading:
The Scarlet Letter: The Dancer and I both finished this and have enjoyed discussing it! I haven't read it since high school and I got much more out of it this time around!
Hawthorne's The Scarlet Letter (Christian Guides to the Classics): This is a helpful little guide to read along with the actual book. The Dancer and I both appreciated it. I'll be reviewing it soon.
Three Decades of Fertility: Ten Ordinary Women Surrender to the Creator and Embrace Life: Here's how I summed up this book: 


Most of all, I loved the overarching theme of children as a gift rather than a burden!

If you're in the midst of your childbearing years, you'll find much encouragement and practical advice here. Older moms will especially be reassured by these stories. And no matter what your convictions on these issues, or what stage of the childbearing years you're in, I think you'll enjoy this look into the heart and motivations of ten women who've chosen this path.

You can read my entire review here.

Fit to Burst: I enjoyed this follow-up as much as I enjoyed the first book, Loving the Little Years! Simple, gospel-centered encouragement for moms in the trenches! Watch for my full review next week. I'll also be giving away a copy! In the meantime, here's my review of Loving the Little Years.
Seed Sowers: Gospel-Planting Adventures: I read through this myself in preparation for reviewing it, and now we're working our way through it aloud, one story at a time. It's a fun collection of modern missionary stories from around the world (see my review here).
Amos Fortune, Free Man: This is the next literature selection for Karate Kid (12) and I'm trying to stay ahead of him. I picked this up to start the first couple of chapters one evening and didn't put it down until I'd read the entire thing a couple of hours later! I enjoyed this simple tale of a slave in colonial times, from his capture as a youth in Africa to his eventual freedom and work to free others.
HarperCollins Treasury of Picture Book Classics: A Child's First Collection: Monkey Boy (4) and I read through this collection of classic picture books together over the last couple of weeks. It has so many of our favorites, from Goodnight Moon to If You Give a Mouse a Cookie! We own the individual books for many of the titles, but he was excited to read this "big book"! It's definitely big and heavy, but unlike many anthologies, it has the full-sized illustrations and pages for each book.
On my nightstand (or Kindle) right now:
Reading God's Story: I'm actually getting ahead on this because I read 7 days a week and the plan is only scheduled for 6. I'm so used to the faster pace of the Bible in 90 Days plan that I occasionally read beyond the day's reading, but I'm enjoying the more leisurely pace too.
Everyday Prayers: Still loving these beautiful, gospel-centered prayers from Pastor Scotty Smith!
The Long Winter: Peanut and I are continuing through these. I think this is one of my favorites out of the whole series!
Extravagant Grace: "What if growing in grace is more about humility, dependence, and exalting Christ than it is about defeating sin?"  An unsettling thought, isn't it? This is the premise of the book. It's based largely on the writings of John Newton (of Amazing Grace fame). I'm really enjoying this one! Watch for my review soon.
Still on my list from last month, plus a few new ones:
I could list so many more on my to-read list, but I'll stop there for now.
So…what's on YOUR nighstand? 🙂
Linked with 5 Minutes for Books.
Have you subscribed to the new Home With Purpose email list yet? Join it and never miss a thing! Click here to sign up to receive new posts and news directly to your inbox!