Have you subscribed to the new Home With Purpose email list yet? Join it and never miss a thing! Click here to sign up to receive new posts and news directly to your inbox!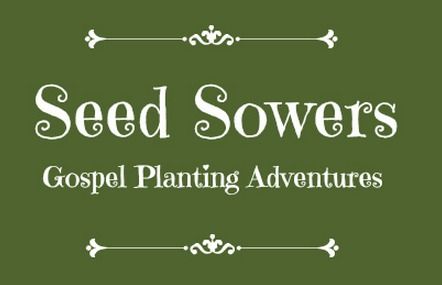 One of our goals in educating our children is to make sure they have a heart for missions. They need to understand God's purpose for the entire world, how all cultures and people exist to glorify Him, and that our Western culture is just a small part of the big world that God created.
One of my fellow Schoolhouse Review Crew members, Gwen Toliver, who together with her family works with Wycliffe Associates,  has put together a collection of adventure stories about twenty-one modern missionaries who are working to provide the Bible in the indigenous languages of people across the globe, called Seed Sowers: Gospel Planting Adventures. We've been enjoying working our way through these stories as a family for the last several weeks.
Did you know that there are nearly 7000 spoken languages around the world, yet less than 500 have the complete Bible? That represents nearly 300 million people who are still waiting to read or hear the life-changing Word of God in their heart language! Gwen spent two years personally collecting these stories and re-writing them for families and children – to give the next generation a passion for serving Him and being part of His work around the world.
The book has twenty-one chapters, each with a different story of adventure that clearly shows God's hand on these men and women and their circumstances as they work to spread the Gospel. Written in a conversational tone, each chapter stands on it's own, making it the perfect read-aloud! This works great for us since some days it's difficult to get everyone together at once to read. It allows me to read with the younger kids and whoever else is at home can jump right in, even if they haven't heard every story.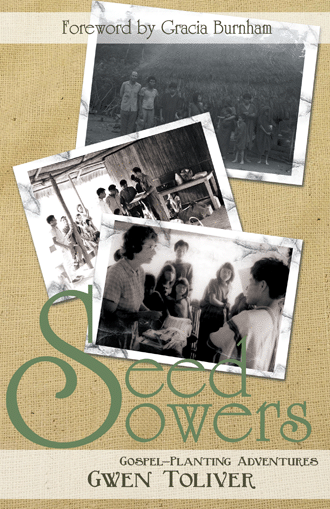 There's a wide variety of adventures recounted throughout the course of the book, from encounters with wild animals to kidnappings and airplane engine malfunctions. Some tales are humorous, some are sad, and they're all exciting!
One story that really touched my heart was Don Johnson's recounting of his participation in the search party for Jim Elliot and his companions when they were killed by the Aucas. This chapter shared details from Don's personal journals and the account of an Auca eyewitness that had never been published previously. It was very timely for us, since we're reading a biography of Jim Elliot right now (that review will be coming soon!).
An important point illustrated throughout the book is the fact that we are all called to be "seed sowers" and that there are many different roles to be filled to accomplish the task. Not everyone is called to be a translator.  There are computer technicians, accountants, teachers, administrators, pilots, medical personnel, and numerous other jobs that are equally necessary.
The entire family is enjoying these stories, from the teen down to the preschooler. They hold the attention of everyone! Just this evening, Karate Kid (12) was eagerly recounting one of the most recent stories to his dad (who hadn't been home when we'd read it). I love that everyone in my family, from youngest to oldest, is able to benefit from these stories!
We also loved browsing through the pictures available on the website, putting faces to names and places from the stories! The photos weren't included in the book due to the aged quality of many of them, but they're available to all at the website, so be sure to check it out! I've included a sampling of a few of them below.
Our family has been blessed by the stories in Seed Sowers and we really appreciate all the work Gwen has put into it, not to mention all that those whose stories are recounted have done to further the spread of the Gospel! It's a great tool for the family discipleship toolbox, showing our children how God is working through ordinary men and women to accomplish His goal of spreading the Gospel throughout every tribe and nation for His glory!
Seed Sowers is available in paperback for $12.50, on Kindle for only $3.99 (linked here), and in several other formats.
You can see what other reviewers thought of the book at the crew blog.