Summer is coming to an end, which means it's back to the "school year" routine! We school pretty much year round, but we do take most of July off and stick to a lighter schedule during the summer. We start our "new" year in August so that our kids advance grades along with their peers at church, dance, martial arts, etc.
This year I'll have a tenth grader, a seventh grader, a second grader, and a preschooler.
I got an early start planning last spring, but then neglected to do as much preparing over the summer as I'd hoped. We like to ease back into the routine a couple of subjects at a time rather than diving right in to a full-blown schedule, and this year, I'm even staggering start times for different kids! My older two have started back with a few subjects already, and we'll gradually add the rest over the next couple of weeks. My little guys will start this coming week. I'm waiting on one or two final items to come in, but we have most of what we need.
Here's what I have lined up for my oldest two:
The Dancer (10th grade)
The Dancer has used Sonlight as her core curriculum since preschool, but this year we're trying something totally different. As much as we love Sonlight and all the great literature, the many hours she spends at the dance studio (both working and dancing) and at drama have made it difficult to keep up with all the required reading plus the other subjects she needs to do. We were both a bit frustrated trying to fit everything in for her first year in high school last year. We decided it was definitely time to simplify.
After much research, thought, and prayer, we decided to try the Notgrass Company's Exploring America program. It's a complete history, geography, and literature course.  It uses some great literature selections, but leaves enough leeway that I can add in some other things I'd like her to read too. Another plus: most of the literature is available for Kindle! As much as I love books, I'm all about saving shelf space at this point!
Alongside Exploring America, she's watching Dave Raymond's American History videos, which have me highly impressed! I can't wait for the second volume to come out! She's also working through the Teaching the Classics seminar, using a schedule I found on the Institute for Excellence in Writing website, for the first six weeks of the year, and we'll apply the techniques learned in it to the literature selections she reads this year, since Notgrass doesn't provide much literary analysis work.
High school science is an area that I've struggled with. I'm not a science person, and neither is the Dancer, so the whole idea is a bit intimidating to me. I do want her to get adequate instruction in the subject, but don't want to go overboard with a rigorous, expensive program since this is not her area of interest (and I firmly believe that, especially once they reach high school, we should be tailoring the curriculum to their interests and talents). We've finally settled on a couple of different resources for Biology this year.
There's also creative writing, math, Spanish, Latin, Bible study, and driver's ed. And of course dance and drama count as physical education and fine arts.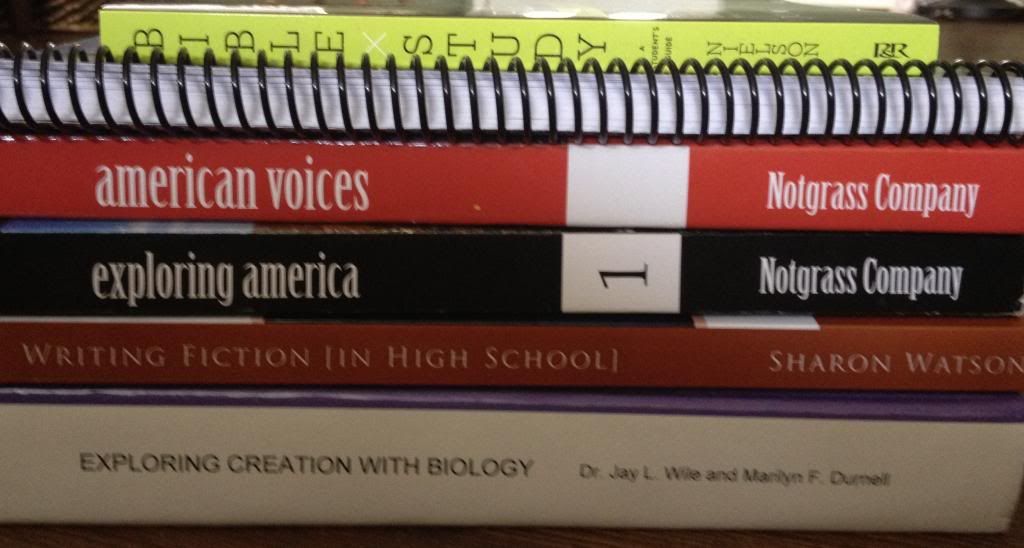 It's going to be a full but exciting year! Her freshman year was a learning experience, and I feel like we have a solid plan now. If you have a new high schooler, or one approaching high school, I really can't recommend Debra Bell's The Ultimate Guide to Homeschooling Teens or Lee Binz's Coffee Break series highly enough to help you get things planned out!
Karate Kid (7th Grade)
Karate Kid is the opposite of his older sister when it comes to school subjects. He doesn't enjoy reading and writing, but he loves science and art and is very analytical. I've tried several different history and literature programs, trying to find a good fit for him. He really enjoyed the year we did Adventures in the Sea and Sky a couple of years ago, but that was a pretty unique program.
Shortly after I settled on Notgrass for his sister, I found out that I would have the opportunity to review their junior high level program, America the Beautiful, with him. I was excited, because this meant that I can coordinate his history with the Dancer's, and I thought the format would be a good fit for him. I was right! He's done several weeks worth and told me a week or so ago that this is his favorite history program ever! Read my complete write up on the program for more about how we're using this program and what we think so far.
Karate Kid is a strong reader, although he doesn't love it as much as his sister and I do, but he doesn't enjoy writing at all, and his spelling and handwriting are atrocious. I've realized though, that it's not that he's not capable of writing neatly and spelling correctly, it's that he doesn't want to take the time required to do it. When I make him slow down, he has very nice penmanship and decent spelling. He would much rather do than take the time and thought to sit and write. So, we're really going to focus on his writing skills this year, and we're going to continue with All About Spelling, at least for the first semester. I'm going to be requiring much more from him in this area than I have in the past. I'm still going to give him plenty of time for the subjects he loves too, though.
I'm hoping to get some more of my Texas Adventure plan in too, probably in the spring. He'll be doing nearly everything independently this year, and bringing his work to me to check at the end of the day. It's going to be a challenging year for him, but I know he will rise to the challenge!
We'll also be watching the Drive-Thru History DVDs together alongside their history studies, and will continue with weekly (hopefully!) Real Food For the Next Generation sessions.
What are your plans for your high schoolers and junior high/middle schoolers this year?
You might also be interested in:
Linked with the Not Back to School Blog Hop, Hip Homeschool Hop.