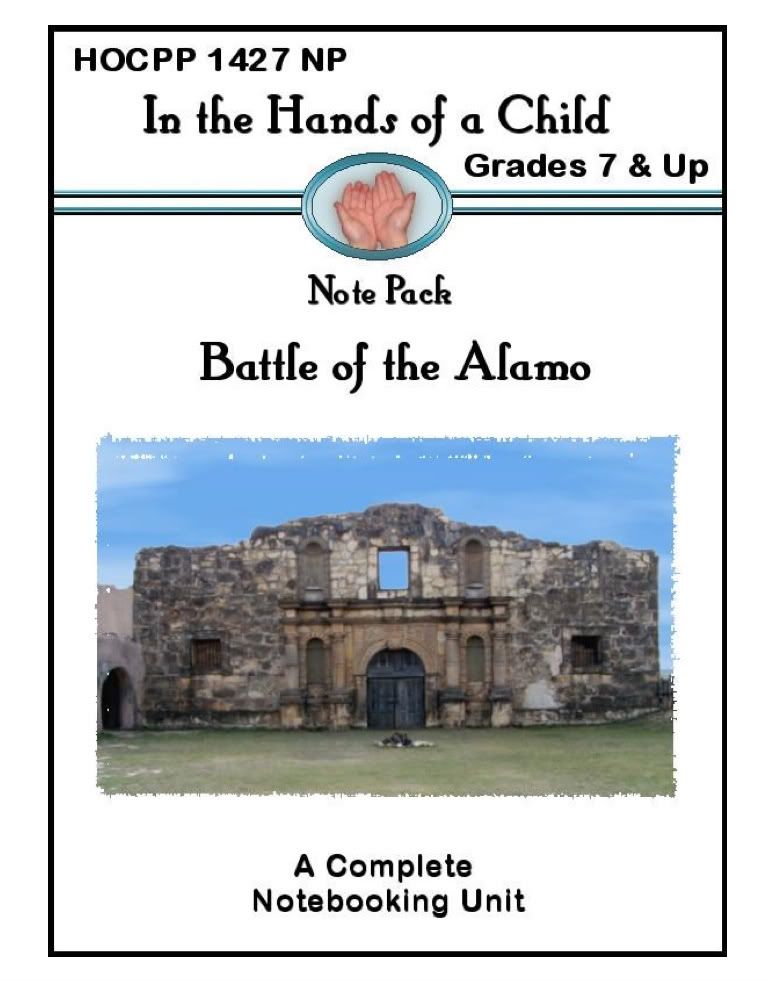 The state of Texas has a unique, colorful history. Over the last several years, I've gradually been collecting material and putting it together into a literature-based study that I call Texas Adventure. When I finally get it completed, I plan to make it available for others who are interested. The public schools here teach state history in 4th and 7th grade, so I try to cover it around that same general time in our homeschool. Karate Kid is in 7th grade this year, so we'll be spending some time on it this school year, and I'm on the look out for good new material to add to our studies.
A couple of weeks ago, we had the opportunity to try out a notebooking unit from In the Hands of a Child called The Battle of the Alamo Note Pack. This printable project pack is similar to lapbooks we've done in the past, but since it's intended for older kids, the pages are meant to be put in a notebook rather than cut out and assembled in folders. It was a quick project, meant to be completed in just six days, and we actually did it in five.
No outside resources are needed, although there's a list given for those who would like to take the study further. There's a brief (8 page) written section at the beginning of the note pack that gives background, historical facts, and general information about the people and places involved in the Texas Revolution. Each day, the student reads a portion of this and then completes several related activities, ranging from vocabulary words and lists to timelines and creative writing assignments.
All the assignments are completed on the printable notebook pages and put in a binder or folder of your choosing. Karate Kid wrote short explanations about things like why the Spanish originally came to Texas, what the Alamo's original purpose was, and what some causes of the war were. He wrote brief descriptions of key figures like Stephen F. Austin and General Santa Ana. Creative writing included explaining how reading William B. Travis' letter pleading for reinforcements made him feel and what position he would've taken in the revolution and why.
We've been pleased with the content and quality of this note pack! While it doesn't go into great detail, it covers the basic facts of the Texas Revolution and the Alamo and provides suggestions for further study. It can stand alone as just a brief overview to familiarize students with the events and people involved, or makes a great supplement to any study of Texas history. I'll be including it in the suggested resources for Texas Adventure.
The Battle of the Alamo Note Pack is designed for 7th grade and up, and is $12.00. But, it's on sale right now for only $5! That's a great deal!
In the Hands of a Child also offers numerous other note pack and lap book packages on numerous subjects and for a wide range of ages. You can read reviews of many of these from other Review Crew members at the Crew blog.