Anyone who has read this blog for long knows that I'm convinced it's absolutely crucial to communicate the concept that the Bible is one cohesive story of God's plan of redemption to our children. Right up there in importance for me is also being sure that they're familiar with the major historical events and important figures in the history of the church. They need to understand how we got where we are now and feel that sense of heritage and connection with fellow believers in the past.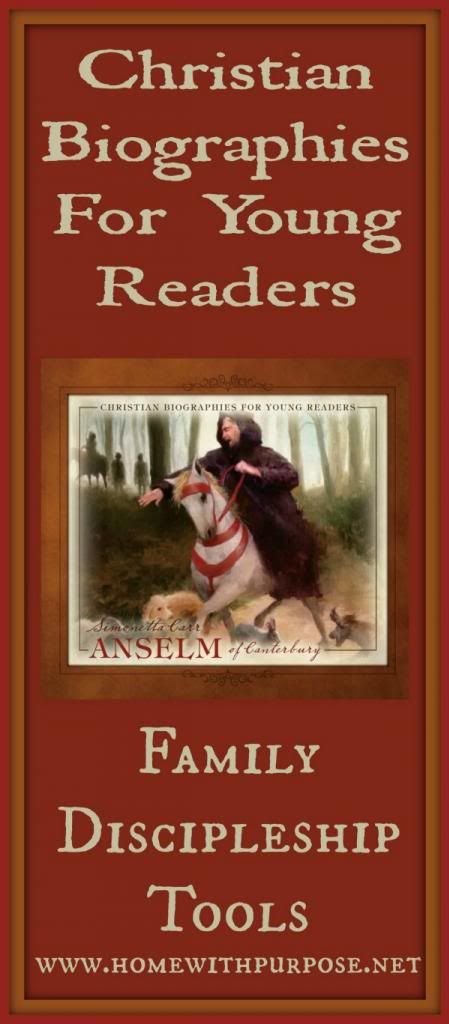 I didn't even know who most of the major historical figures in church history were until I was an adult! Thankfully, there are more quality resources available these days to assist us in passing on this knowledge to our own kids.
One set of tools that's worth checking out is the Christian Biographies For Young Readers series by Simonetta Carr. I'd been eyeing these for quite awhile and I finally got my hands on the volume on Anselm of Canterbury a couple of weeks ago.
It's a beautiful 62 page hardcover book with absolutely gorgeous illustrations throughout. Much more than just a simple storybook, this volume covers not only the significant events in Anselm's life, but discusses how he impacted history and the development of the church and doctrine.
An introduction acquaints the reader with Anselm and briefly explains his major contributions, then six short chapters cover his life in depth from birth to death. The book concludes with a timeline of his life, a section called "Did You Know" containing four pages of  interesting facts, and a page called "Words from Anselm" featuring several quotes from his writings.
I'm so impressed with this book! The text is understandable and written at a level accessible for any fluent reader, and the events and concepts are explained clearly and simply.
The age range listed on the back of the book is 7 to 12, and I think that's probably pretty accurate. The simple text and interesting illustrations hold my 7 year old's attention fairly well, and my 12 year old could easily write me a several page paper based on the information presented. I learned quite a bit myself. It's pretty comprehensive!
Other volumes in the series include:
John Calvin
Augustine of Hippo
John Owen
Athanasius
Lady Jane Grey
with more planned soon.
These books are definitely beautiful, functional tools worth having in the family discipleship toolbox! I'm looking forward to collecting them all!You might enjoy these links with further information too:
Thanks so much to Cross Focused Reviews for providing a review copy of this title to me. All opinions are my own and I was not required to provide a positive review.