This post contains affiliate links.


My teenage daughter, like most girls her age, loves scented lotions and personal care products. I enjoy them myself. Yet we're both aware that most commercial brands contain questionable ingredients. Here's the ingredient label on one popular brand name lotion I found in the medicine cabinet:
Water (Aqua), Glycerin, Petrolatum, Cetyl Alcohol, Cetearyl Alcohol, Dimethicone, Fragrance (Parfum), Ceteareth-20, Aloe Barbandesis Leaf Juice, Vanilla Planifolia Fruit Extract, Macadamia Ternifolia Seed Oil, Tocopheryl Acetate (Vitamin E Acetate), Ascorbic Acid (Vitamin C), Avena Sativa (Oat) Kernel Extract, Vitis Vinifera (Grape) Seed Extract, Pyrus Malus (Apple) Fruit Extract, Propylene Glycol, Carbomer, Sodium Hydroxide, Diazolidinyl Urea, Methylparaben, Propylparaben, Benzyl Alcohol, Tetrasodium EDTA, Disodium EDTA, Yellow 5, Blue 1, Red 40 (I've linked several of the more troubling ingredients to their entry in the Environmental Working Group Database)
Compare that with the ingredients in the lotion bars the two of us made yesterday afternoon in our kitchen:
Coconut Oil, Shea Butter or Cocoa Butter, Beeswax, Essential Oils of choice (optional), Vitamin E oil (optional)
These lotion bars were a quick, easy project for us and a great way to fit in some mother/daughter time! With just three basic ingredients and multiple options for personalization, they're perfect for both personal use and as gifts!
I'm looking forward to experimenting with them more, trying different scents, combinations of ingredients, shapes and sizes. The variations are endless!
Here's what we used: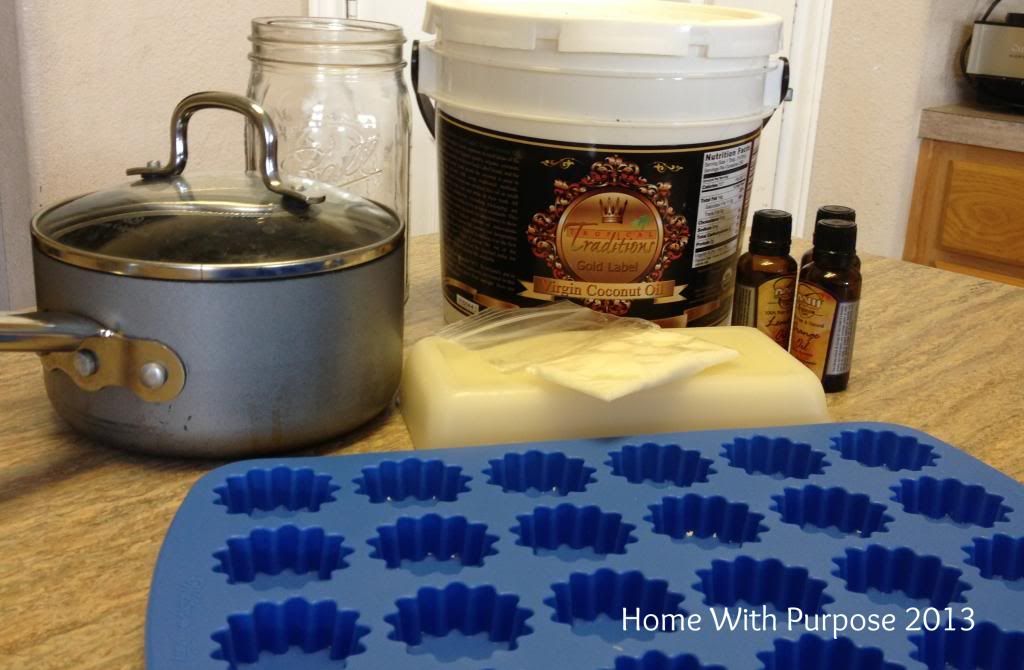 We measured all the ingredients except the essential oil into a mason jar (we used a quart size but could have fit it into a pint size), set the jar in a saucepan of simmering water, and stirred it with a wooden spoon until all the ingredients were melted and smooth.
After removing the mixture from the heat, my daughter added the essential oil while I stirred.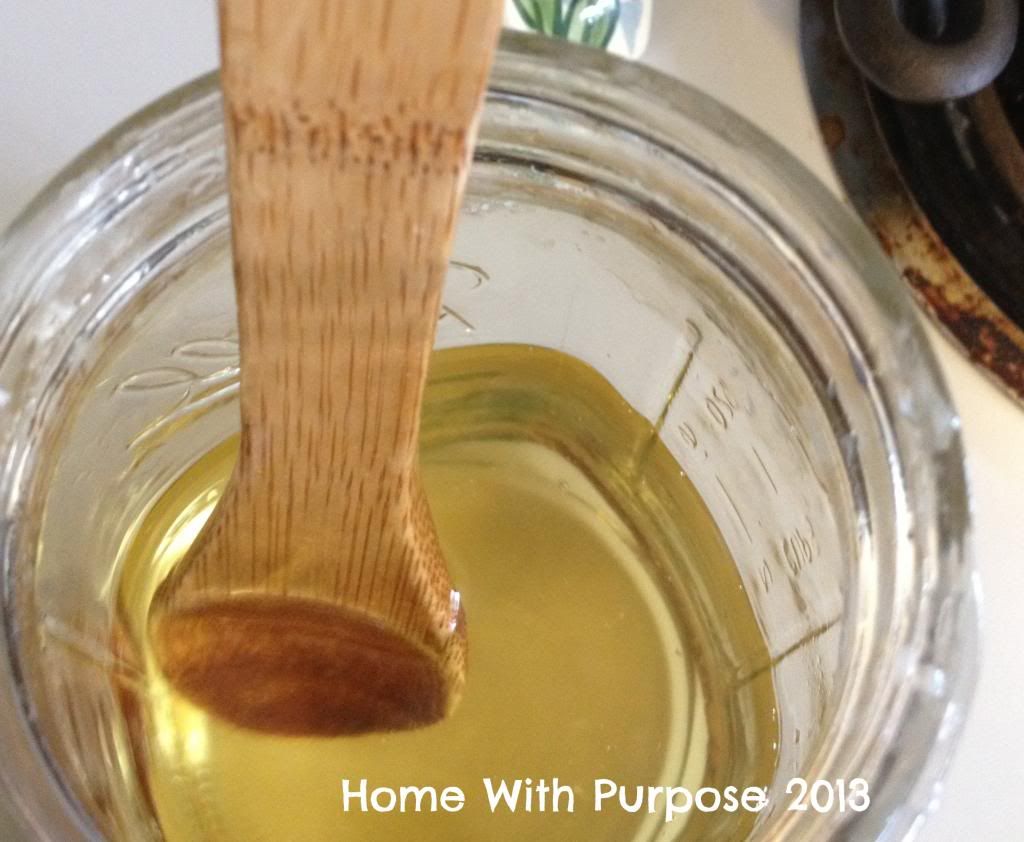 Once the essential oil was well incorporated, I carefully poured the mixture into a 
cute silicon daisy pan
as a mold.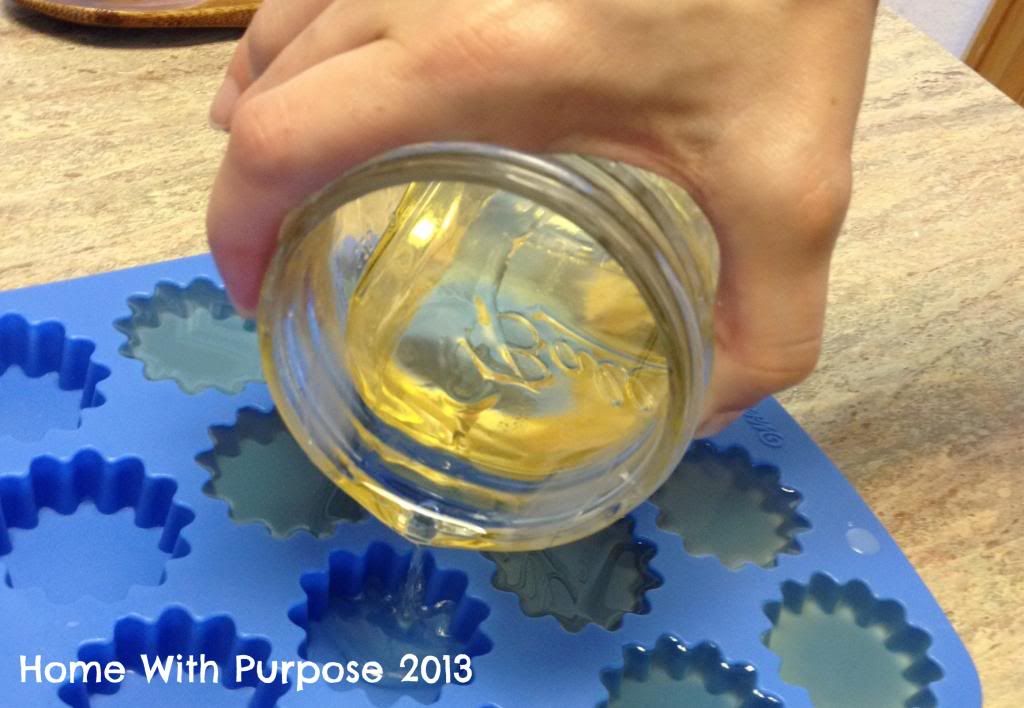 The lotion bars hardened pretty quickly, and we had fun wiping the excess off the edges of the pan and rubbing it on our skin while we waited!
Wow. We're loving these! The cocoa and shea butter we used was not the highest quality, but was all I could find locally until my order of good, unrefined stuff comes in, yet they still glide onto the skin silky smooth. We're both loving that we never have to worry about accidentally getting too much – we just rub the bar on until we've gotten enough.
These stay nice and solid at room temperature but get slippery quickly from body heat when handled. We've been keeping the extras in the refrigerator just to keep them nice and hard.
We definitely plan to use more essential oil in the next batch…the scent isn't strong enough for either of us…and I plan to add the Vitamin E oil next time too. I just happened to be out this time. We're both looking forward to experimenting with the scents and using various different molds to make different shapes and sizes.
The recipe is so simple it's ridiculous! Any size batch can easily be made – just remember that the three main ingredients are a 1:1:1 ratio. We chose to use half shea butter and half cocoa butter in this batch, but could have easily used just one or the other to make it even simpler.
So, use coconut oil, beeswax, and your choice of shea, cocoa, or mango butter in equal parts, add an essential oil or natural fragrance of your choice in sufficient quantity to achieve your desired level of scent (or leave unscented if you prefer), add a bit of Vitamin E oil if you'd like, and pour into molds of your choice.
Voila!
Lotion bars to rival anything you can find at the store, with nourishing, healthy ingredients.
And I'm excited about all the possibilities, not just with different scents, but different functions!
Add essential oils that deter insects, like citronella, lemongrass, eucalyptus, or a blend like Young Living's Purification, and you have homemade, natural insect repellent bars!
Add zinc oxide to make homemade, all-natural sunscreen bars. Homemade Mommy has a great tutorial for this with an almost identical lotion bar recipe!
Wellness Mama has even adapted these to make homemade deodorant bars by adding baking soda and arrowroot powder!
The variations are endless!
These are an adaptation of a recipe by Katie at Wellness Mama.
Linked with Fellowship Fridays, Thrive @ Home, Natural Living Monday, Mostly Homemade Mondays, Raising Homemakers, and Simple Lives Thursday.