Our garden is producing a bumper crop of cherry tomatoes this year! The plants have gone wild, growing over 6 feet tall and producing dozens of tomatoes a day. Now, we all love cherry tomatoes around here. We eat them like candy! But even we can't use all that these plants are putting out.
In the past, I've had decent luck freezing them whole, but that takes up quite a bit of valuable freezer space, and they're only good to use for cooking after being frozen. Canning tomato sauce, salsa, etc. is a good option, but time-consuming. I wanted a quick, easy option to preserve what we can't eat or share.

So, I decided to try lacto-fermenting them whole, doing something similar to these fermented grape tomatoes I saw on Eat Nourishing. Lacto-fermentation is an ancient preservation technique that's been used all over the world throughout human history. It happens when friendly lactic-acid producing bacteria convert the starches and sugars in vegetables and fruit into lactic acid. Not only does this preserve it and greatly increase the nutritional value, but gives it a distinctive, tangy flavor!
The health benefits of lacto-fermentation are numerous. Here's what Nourishing Traditions says about them: 
"The proliferation of lactobacilli in fermented vegetables enhances their digestibility and increases vitamin levels. These beneficial organisms produce numerous helpful enzymes as well as antibiotic and anticarcinogenic substances. Their main by-product, lactic acid, not only keeps vegetables and fruits in a state of perfect preservation but also promotes the growth of healthy flora throughout the intestine." (p. 89)
Impressive, huh? I'm always on the look out for simple ways to add more fermented foods to our diet.
The ingredients we used were simple:
enough cherry tomatoes to fill a quart jar(number varies by size)
fresh basil leaves
2 cups filtered water
1.5 tbsp Real Salt or other quality sea salt
After washing the tomatoes and pulling the tops off, I pierced each one with a toothpick so that the brine would have a way to get in. I loosely packed them in a quart canning jar, adding a couple of basil leaves between each layer, and finishing with a layer of basil leaves on top.
Next, I combined 2 cups of filtered water and 1.5 tbsp of sea salt in a measuring cup and poured it in the jar (it took just a little bit less than the two cups for this jar, it will vary with each jar). I added one of my handy little glass jar weights to hold it all down, put the lid on, and put it in the pantry for five days, then transferred to the refrigerator.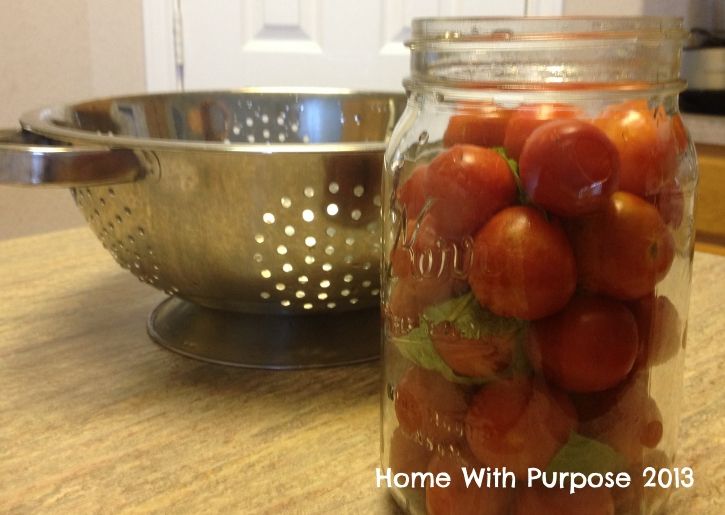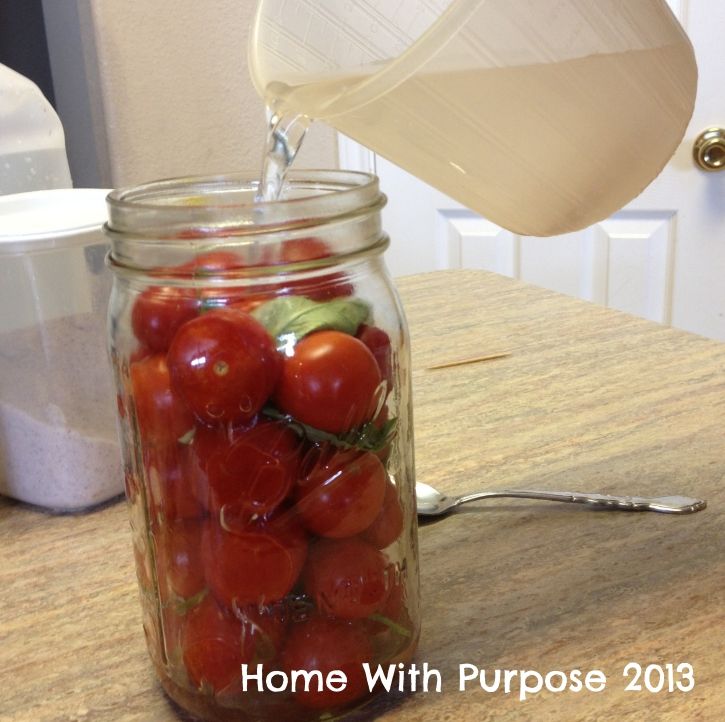 We sampled them before putting them in the refrigerator, and they're delicious! The fermentation gives them a nice tang in addition to the sweetness, and the basil adds fantastic flavor too! These will be delicious to eat in salads during the fall and winter, or even just to eat as snacks. We've got a second jar going, and we're collecting enough each day to make a couple of jars a week and have plenty leftover to eat fresh. This is the perfect quick, super simple, healthy way to preserve our garden bounty!
If you like this recipe, you may enjoy my pickle recipes also:
It's worth it to educate yourself on lacto-fermentation and how to include it in your family's diet. Here are my favorite resources:
How do you incorporate fermented foods into your menus?