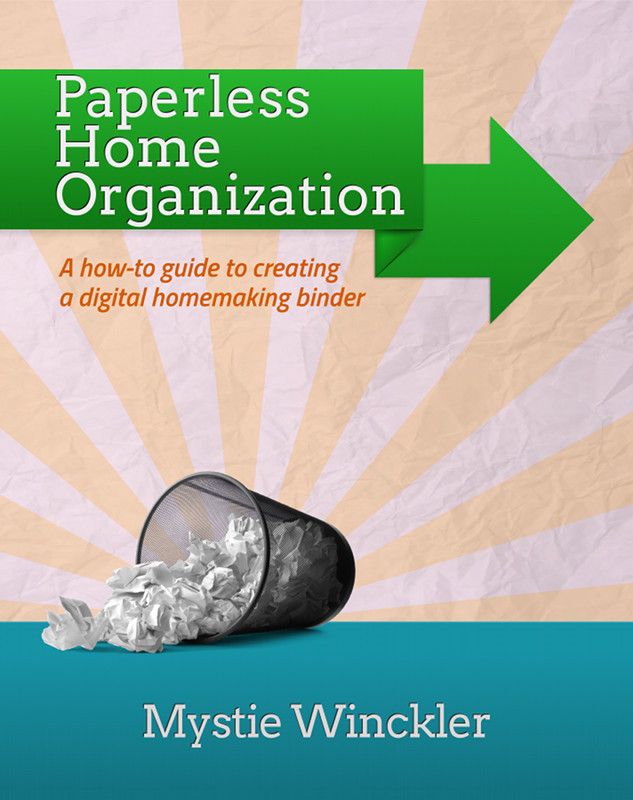 I love home management binders and planners.
I've tried various different formats, from store-bought to totally made from scratch, and have used them with varying degrees of success over the years. In recent years, I've gotten away from using paper planners in favor of using my laptop, iPhone, and iPad, although at times nothing beats good ole' pencil and notebook. Still, I've never really come up with a complete system that mirrors a physical binder like I used to keep. I've tried various apps, some that sync between devices, some that don't. So I was excited when I received a copy of
Paperless Home Organization
 from Mystie Winckler at
Simplified Pantry
to review.
Paperless Home Organization
provides step-by-step instructions to create a personalized digital homemaking binder using several free apps:
Remember the Milk
,
Evernote
, and
Google
mail and calendar. It walks the reader step by step through setting up each one of these, and than shows how to integrate them into a whole system, using concepts from the popular book
Getting Things Done.
The system is based on using a computer and a mobile device of some type: either an iPod touch, iPhone, or Android device.
I've been gradually implementing some of her ideas over the last several weeks and I'm loving it! Evernote forms the "meat" of her system, as she calls it. I'd always heard about Evernote but never really understood exactly what it was or how it worked…Mystie's tutorial on this was incredibly helpful! I can't believe I've missed out on such a fantastic tool for so long! For one thing, no more emailing interesting links to myself, only to lose them in the bottomless pit of my inbox, and far less multiple open browser tabs! I'm totally thrilled with getting Evernote figured out. It alone is going to make a huge difference for me, and if it was the only thing I took away from this book, it would have been well worth it just for that!
The other thing that has me excited about this system is getting my email under control. I've used a Google mail account for several years, and my inbox has always been a cluttered mess. With the tips and hints on how to set it up that I got here, I think I'm finally on my way to getting it organized!
I'm not sure if I'm going to use
Remember the Milk
or continue to use the app I currently have and adapt the system, and I've chosen to continue using Mac's calendar, which already syncs between my laptop, iPad, and iPhone, instead of switching to Google. And that's one of the good things about Mystie's system…the flexibility. The basic principles can be adapted to work for you and your particular needs.
There's nothing particularly complicated about any of the steps or tools, but putting it all together into a system could get confusing.
Paperless Home Organization
 shows you how to make the apps work together in ways you might not have thought of otherwise. And it's so helpful to be walked through the process with step-by-step instructions and screenshots!
I'm excited about this system. The idea of paperless is very appealing to me. Paper clutter is probably my biggest organizational challenge. Limited storage space is another. A paperless system addresses both of those beautifully! Sure, there are times when nothing beats sitting down with a notebook and pencil to brainstorm, and I know I'll never give up paper entirely. But even that can be incorporated into this system to an extent, by scanning my handwritten notes into Evernote too.
Paperless Home Organization
is definitely a valuable tool in designing and implementing a home management system that's efficient and easy to maintain. 
I really think the small investment of $3.99 (for either pdf or Kindle) will pay for itself many times over! 
You can check out a sample 
here
.