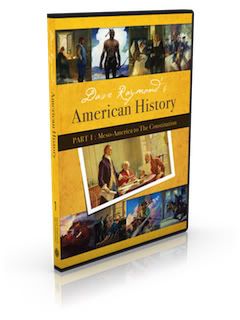 History is one of our favorite subjects around here, and we've always used a literature-based rather than textbook approach. We've also really enjoyed the video-based approach that Compass Classroom uses for their programs, like Visual Latin and Economics For Everybody.
For the last few weeks I've been previewing Compass's latest offering, Dave Raymond's American History Part 1, which blends both of these approaches. It teaches through a combination of video lectures and readings from original source documents.
American History Part 1 is intended to cover one semester and is designed for upper middle school and high school. It consists of video lectures (available as a download or on DVD), a student reader, and a teacher's guide. There are thirteen lessons, with each one meant to last one week. Each lesson contains five short (approximately ten minute) video lectures, with each one accompanied by a daily assignment or reading. Each lesson also has a weekly exam, and the student is encouraged to keep a journal or portfolio all year.
The lessons include:
1. Orientation
2. The Banner of the Sun: Meso-America
3. Brave New World: The Early Explorers
4. The Colossus of Empire: The Colonies
5. Stability and Change: The Reformational Colonies
6. A City Upon a Hill: The Puritans
7. A Foreign War at Home: Wars of Control
8. Grace, the Founder of Liberty: The Great Awakening
9. Fathers of Independence: Adams, Franklin, Witherspoon, and Henry
10. Liberty or Death: The Declaration of Independence
11. Awesome Providence I: The War of Independence
12. Awesome Providence II: The War of Independence
13. A More Perfect Union: The Constitution
Part 2
is forecasted to release this fall and will pick off where this one leaves off and go through Theodore Roosevelt and Booker T. Washington. The two parts together will be worth one high school history credit.The timing on this has been just perfect for us, since I'm planning to do American History with all my kids this coming school year. I'm thoroughly impressed with
American History Part 1
 and I'll definitely be using it with the Dancer, who will be in tenth grade. I'm also planning to have Karate Kid, who will be in seventh grade, go through it, but won't require as much from him for the assignments and projects.
I like that the first lesson (Orientation) very clearly explains exactly how the course works, the approach, and why history is important. One of the videos even gives the student instructions on how to take good notes during the lectures…a skill that will definitely be necessary for college!
The kids both really liked the lessons that we watched and found them very interesting. Mr. Raymond uses a conversational style that's engaging and his obvious enthusiasm for the subject really makes the lectures enjoyable! The assignments are clearly explained and both they and the reading selections are thought-provoking…designed to really make the student think through the underlying factors behind the events. This is definitely not just a "names and dates" program! It really delves into how and why cultures change and how ideas and worldviews impact how we live. I really love this approach!
But what I love most of all about this program is that it goes even further to show the theme of redemption through all of history. Mr. Raymond points out that history is at it's heart a story of the Gospel, but also of sinners. Even the "heroes" of history have flaws – because they're sinners – but he encourages students to watch for how all of history reveals the story of redemption, even through flawed and sinful people and actions. Through it all, God is working to accomplish His purposes.
You're probably aware by now how important I think it is to understand the Bible as one cohesive story of God's plan of redemption rather than just a collection of isolated writings with important principles to teach us. Likewise, all of history in every part of the world and every culture should be seen as one big story of God working out His plan for redemption, instead of a series of disconnected cultures and events that sometimes converge. The philosophy and approach behind Dave Raymond's American History fits right into this way of thinking. I really think it's going to be a perfect fit for our family.
Here's a trailer for Part 1:
You can also see samples of the
teacher's guide
and
student reader
, view a
sample lesson
, or even
download two complete lessons for free
, so you can thoroughly try it out.
Part 1
is available on DVD or as a download for $100.
We're all really excited about using this when we start our new school year in a couple of months, and looking forward to checking out Part 2! I'll definitely share updates about how we're using it as we go along.
Thanks so much to Compass Classroom for providing a copy of this program for our family to try out. I was not required to give a positive review and all opinions are my own.