My kids are pretty aware of what we consider healthy and unhealthy, and understand the basics of why. They also know about some of the traditional cooking techniques we employ in our kitchen (soaking grains, etc.) and some of the benefits. My older two know the basics of cooking, and my little guys
love
to help in the kitchen.
But I've thought for awhile now that it was time to bring all the why and how together and follow an intentional plan to teach them traditional cooking techniques along with nutrition and health. So, this past August I sat down and coordinated Kristin Michaelis' Real Food Nutrition and Health book with the corresponding sessions of the Gnowfglins eCourses, dividing them into units we could do weekly.
I made parallel lesson plans for Peanut (6) and Monkey Boy (3), using Real Food Nutrition For Kids, and coordinating several books I've used in the past for a unit on nutrition and health in a co-op setting.
Then, our schedule changed and I wasn't able to fit it all in when I thought I would, so it was put off all fall. Now, we're finally digging into it! We're only on our second week, but so far they're all loving it!
The first thing that the Dancer (14), Karate Kid (12), and I did was discuss exactly what "real food" is and why it matters. Does it have to be labeled "organic"? Where do you find it? At the grocery store? A farm? And what's our motivation for eating this way?
Resources we used:
Peanut and Monkey Boy learned about how our body uses food and colored a fun page about our digestive system!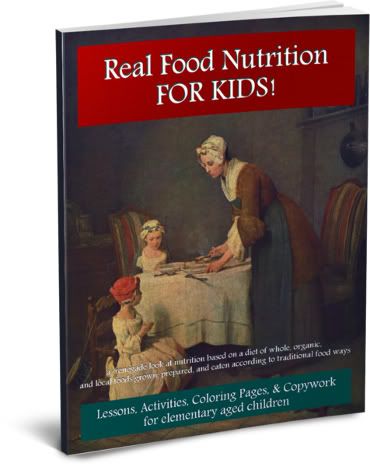 Here's what we used for them:
After a brief look at what traditional food cultures can tell us, we're going to take a look at healthy fats and oils and how to properly use them, and hopefully learn how to make ghee! As we get further into the lessons, the kids will be involved in actually learning techniques for traditional food preparation and doing plenty of hands-on kitchen work that we'll share with you each week!

By the time we're through I'm hoping my kids will be "real food experts", well-equipped to help with anything I need in the kitchen, aware of why we eat the way we do, and able handle the task of feeding their own families well some day! We'd love to have you join us on our journey!
This post is part of
Day 2 of the 5 Days of Teaching Creatively Blog Hop:
hosted by The Schoolhouse Review Crew.