If you're looking for my fresh-ground flour bread recipe and are mistakenly being redirected here, I apologize!

The recipe you need is right here

. If not, keep reading for the HWT app review! I'm so sorry for the inconvenience!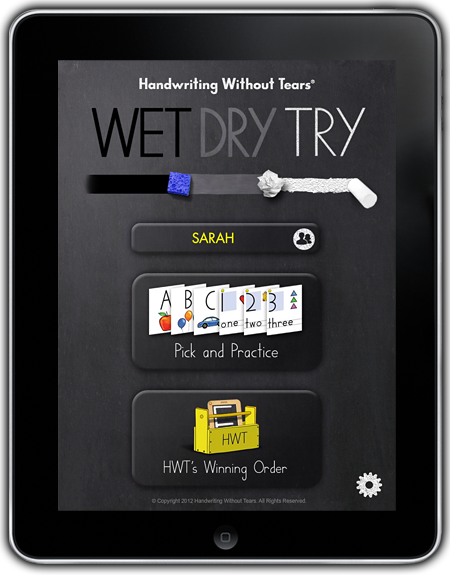 I've been a fan of Handwriting Without Tears for years now. I really like their approach and have used it with three out of four of my kids in their early school years.  It's been especially helpful with my lefty (Karate Kid). For the last few weeks, my little guys and I have been enjoying their new app, Wet-Dry-Try. The app is available for both iPad and Android devices with 7 inch or larger screens. It's designed to work as a "virtual chalkboard". If you're familiar with the HWT Slate Chalkboard (which we've owned for years), this may look a little bit familiar to you!

The application allows you to add up to four users, adjust the level of sensitivity (what it calls "stroke tolerance"), lock or unlock levels, and choose audio preferences (music, vocal instruction, and sound effects) for each one. It covers both capital letters and numerals, and has two different options for play. The first option, called "Pick and Practice", allows the child to choose whichever letters and numbers they want to practice, in whatever order they'd like. The second option, "HWT's Winning Order", guides the child through the letters in the same order used in the HWT program, grouping letters according to how they're formed ("frog jump", starting corner, and center starting capitals), and each letter must be successfully completed to "unlock" the next one.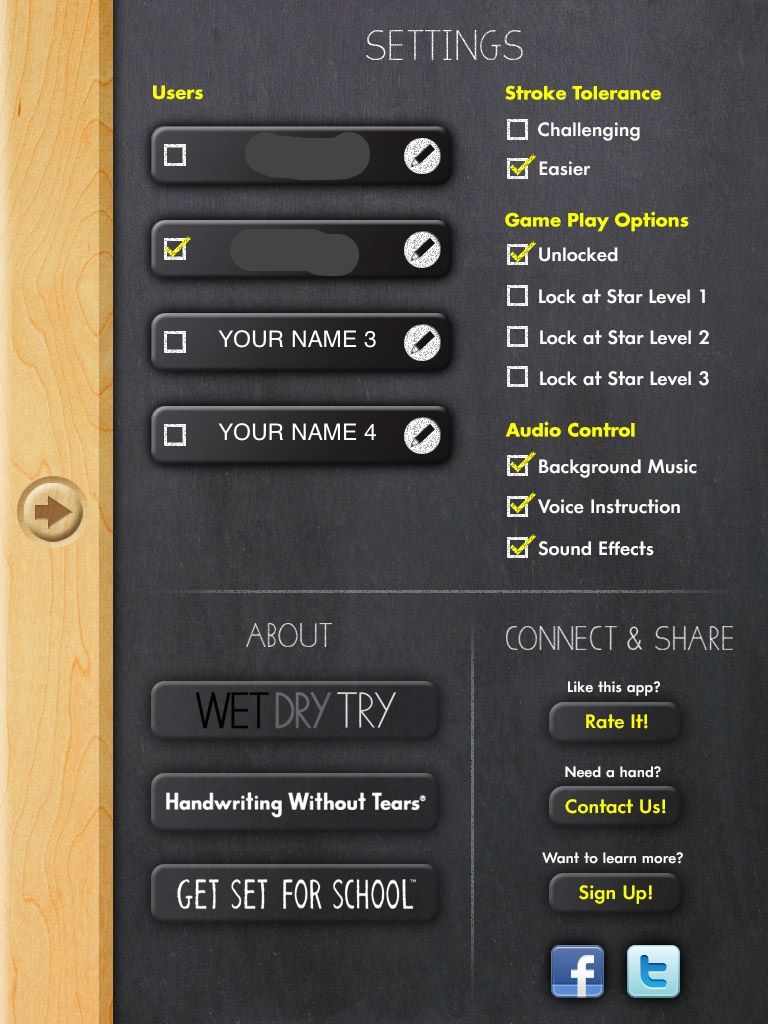 Just like in the physical version of the chalkboard activity, the child first "wets" the letter with the virtual sponge, then "dries" it with the virtual towel, and finally draws it with the virtual chalk. If they get off track, lift their finger, etc. they must try again.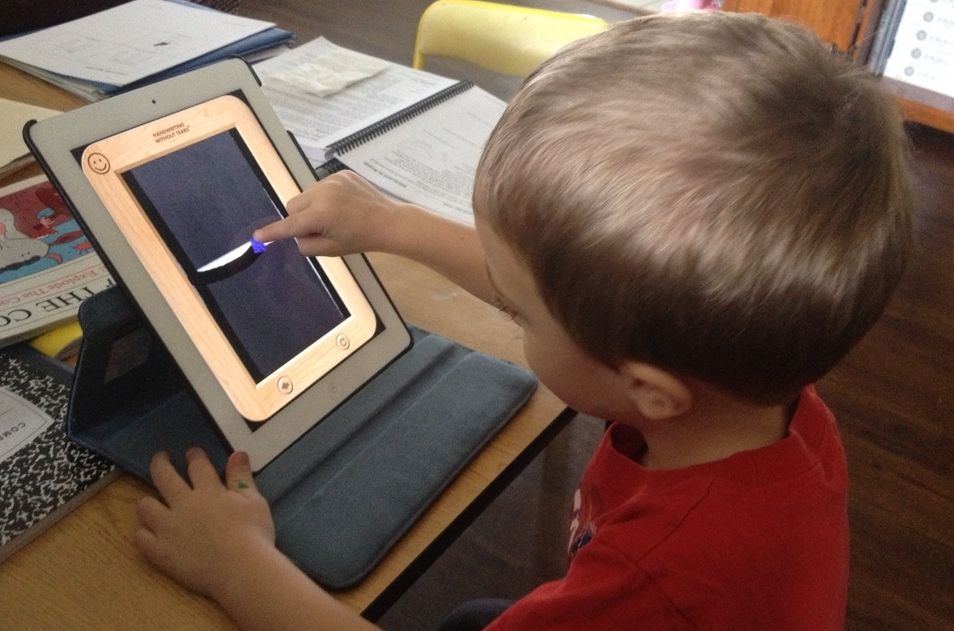 Monkey Boy "wets" the letter H with the virtual sponge
Peanut (6) and Monkey Boy (3) both absolutely love this app! In fact, every time I tried to work on this review and opened the app, they would hear the music, come running and beg to play! We've been using this as a supplement to their handwriting workbooks (they're using their respective levels of HWT). It works fantastic to occupy one while I work with the other.
I've had Monkey Boy working through the "winning order" but let Peanut free play, choosing which ones she wants to practice. Her handwriting is quite good already, so it's mainly reinforcement for her, but he's just learning to form his letters, so it makes sense for him to follow the prescribed order. He loves successfully completing one, earning his star, and unlocking the next one! He's completed all the letters and is working his way through the numerals now.
I love the convenience of having this as an app! It's so much simpler, and less messy, than getting out the slate, chalk, etc. And they can do it independently, because the app offers the feedback that would normally come from you! It's also more portable than the physical version, so easy to take and use on the go. It offers visual cues as the child can see exactly where they traced with the virtual sponge, chalk, etc., and immediate feedback with the sound effects and vocal instruction (for example, a chime sounds when they successfully complete a letter, and a voice telling them to try again or good job, etc. at appropriate times).
Of course, there's not the same tactile experience as with the actual slate and chalk, and they're not learning how to properly hold the chalk/pencil. For that reason, I see this as a fantastic supplement to a handwriting program, but not a total replacement. It provides excellent reinforcement and practice, and it's fun too!! I would love to see it offer lower-case letters too…then it would be just about perfect!
You can download Wet-Dry-Try from the Apple App store and Android Google Play for $4.99 (both are linked from the app's page). If you have a child between the ages of four and six, or who could use fun handwriting practice at any age, it's money well spent!