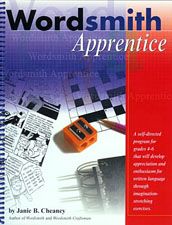 We've tried out several different writing and grammar programs with Karate Kid (11) over the last year or so. Each one has had things I liked about it, and we've definitely seen improvement in his writing. But I needed something less teacher-intensive that he could do fairly independently this fall with our busy schedule. Since we started schoolwork in August, he's been working his way through
Wordsmith Apprentice
.
Wordsmith Apprentice
is described as
"an easy to use writing course encouraging students to develop their writing skills as they participate in every role on a newspaper staff: editor, reporter, writer, etc. Children develop a love for writing as they express themselves through sentence and paragraph writing, persuasive writing, and much more."

The simple, spiral-bound consumable book aimed at ages 9 to 12, is divided into three parts:
Nouns, Verbs, & Basic Sentence Structure
Modifiers & More Complex Sentences
Organizing and Reporting
There's a short section for the teacher and an introduction written to the student at the beginning of the book, and an answer key at the end. All the lessons are written directly to the student. 
The simplicity of design is nice. A variety of fonts and black and white illustrations make it pleasant to look at, and the conversational writing style is clear and direct.
I really like this program's simple, no-frills approach! It's practical, self-directed, and creative. There aren't a bunch of bells and whistles and extra activities, but we're finding it very effective. I love the concept of teaching writing skills through the different roles of a newspaper staff. Instead of just teaching abstract concepts, Karate Kid is seeing how these skills can be put into actual, practical use in the real world.  The format with it's straightforward explanations and step-by-step instructions really helps him organize his thoughts, and the lesson length is just right. He's been able to do the lessons by himself and just bring his work to me to check.
The assignments are imaginative and there's a wide variety so that his interest level stays high. It's something different every day. For example, in the very first assignment he had to fill out a job application and then create one to have someone else fill out. In other lessons, he's created classified and help wanted ads, written a thank you note, made his own crossword puzzle, and more. All while  learning the parts of speech, types of sentences, and so on.
Karate Kid working on a writing lesson in his favorite spot on the couch.
At this point, he's close to halfway through the book. Once he's done we will definitely consider moving on to the other books in the Wordsmith series. Wordsmith Apprentice is simple, practical, effective, and affordable…a great combination!
Wordsmith Apprentice is available at Timberdoodle for $14.50. You can request a free Timberdoodle catalog to see everything they offer, and be sure to also check them out on Facebook for specials and news.
Disclosure:  As a member of Timberdoodle's Blogger Review team, I received a free copy of Wordsmith Apprentice in exchange for an unbiased review. All opinions are my own.