Last week I shared my essential tools for successful meal planning:
My menu plan subscription (I use Gnowfglins)
Meal-planning software (I'm loving Paprika)
Recipe sharing sites, link-ups, and cookbooks (one of my faves is Eat Nourishing)
Now I'm going to briefly outline for you how I put it all together to come up with a successful meal plan. Here's what my typical weekly routine looks like…

Choosing recipes
My meal plan arrives in my inbox on Fridays. At some point on Friday afternoon, I sit down, look at my husband's work schedule and what we have going on for the following week, and decide which days I'll cook. I read through the menu, choosing which recipes I want to use, and copy and paste these into Paprika. If I need or want more, I choose from what's already in my collection, or go to Eat Nourishing, my Pinterest, etc. and pick what else I need to fill all my slots.
Make My Meal Plan
Once I have enough recipes and know what days I want to cook, I add them to the calendar on the appropriate day in my Paprika app on my iPad. If I need to do any advance prep, like soaking beans or building up my sourdough starter, I add a custom note to the appropriate day.
A menu plan view on the iPad
Create my shopping list
In my Paprika app, I can generate a list of all the ingredients from the recipes on my meal plan at the click of a button. Then I go down the list, checking those that I want to add to my grocery list. Once I'm done, the app generates my grocery list, sorted by aisle, for me. At this point, I can add any other items I need (although I add those throughout the week as I realize I need them too). It automatically appears, completely updated, to my phone, without me having to do anything.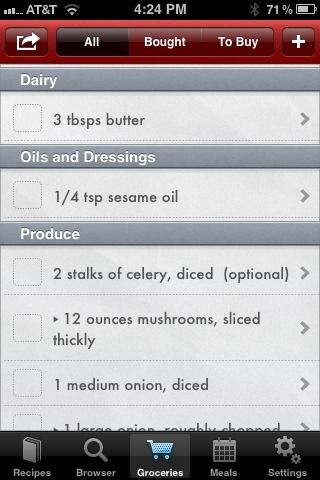 The shopping list on the iPhone
Shopping trip
Once my plan and shopping list are complete, it's time to go to the farmer's market and grocery store! I either do both Saturday morning, or if my schedule doesn't allow, I'll do the grocery store Monday morning, using the grocery list on my phone. I check items off as I go, and the list is automatically updated to my iPad also.
Follow the plan!
Then, each day throughout the week, I check my plan, prepare/thaw/etc. what is needed for the next day, and cook our meals!
That's it!
This simple process probably takes me less than an hour a week (plus shopping time).  It makes a huge difference in our grocery bill as compared to weeks when I don't plan, and helps me manage my time,  reducing the time I have to spend in the kitchen and helping me break meal prep up into manageable chunks that fit better into our schedule. I love the built-in variety of the weekly menu plan subscription, which gives me new things to try even when I don't have time to search them out.
My meal planning routine is definitely essential to our Home With Purpose!
How do you manage meal planning? What does your routine look like and what are your essential tools?