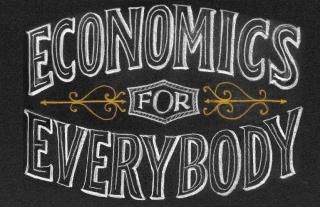 What do you remember about your high school or college economics class?
If you're like me, probably not a whole lot. I do remember that it was boring and full of abstract concepts that just didn't seem to apply to me on a personal level. Now that the Dancer is entering high school, she's going to be required to take a semester of economics in the next few years. I don't want her experience to reflect mine…I want her to see that economic principles are relevant to her personally, flow from a biblical worldview, and can even be interesting!

So, I find it providential that just when I was researching economics programs, I was contacted by Compass Cinema to see if I was interested in reviewing their newest offering, Economics For Everybody: Applying Biblical Principles to Work, Wealth & the World, produced jointly with Ligonier Ministries. I'm highly impressed with Compass Cinema's Visual Latin program, and my entire family has benefited greatly from Ligonier Ministries' study materials and ministry, so I was happy to take them up on the offer!
I have definitely not been disappointed!
Here's the description:
The news is full of it. But most Christians know very little about it. Economics: it's everywhere, influencing everything — and so rarely understood.

Economics for Everybody seeks to remedy that through an insightful and entertaining exploration of the principles, practices, and consequences of economics. Thoroughly unconventional, it links entrepreneurship with lemonade, cartoons with markets, and Charlie Chaplin with supply and demand.

It's funny, clever, profound and instructive all in one place. It's Economics for Everybody.
Economics For Everybody consists of twelve video lessons taught by Dr. R.C. Sproul Jr., accompanied by a 250 page study guide. The videos average about 20 minutes, and the study guide includes an expanded outline of each lesson with additional material not included in the video, related Bible readings, discussion questions, short answer questions, multiple-choice questions, and a comprehensive list of sources.
Here a list of the lessons:
God Created Economics: Stewardship in God's Image
The Economic Problem of Sin: Law, Liberty & Government
The Path From Work to Wealth: Production, Property & Tools
The Route From Scarcity to Plenty: Money, Markets & Trade
The Role of the Entrepreneur: Capital, Calculation & Profit
A Tale of Two Theologies, Part 1: From God to Politics
A Tale of Two Theologies, Part 2: Economic Philosophies & Systems
Government Intervention: Basic Principles & Education
The Two Mysteries of Monetary Policy: Inflation & Depressions
The Welfare & Corporate States of America: The Cost of Redistribution
Economics Has Consequences: The Real Effects of Sin
Kingdom Economics
You can also watch the entire first lesson here and highlights from the other lessons here.
I am so impressed with this course! If you've ever heard or read Dr. Sproul, you'll know that he has a knack for putting complex concepts in simple, clear terms. He puts that skill to work in these lessons.  His explanations are fantastic, his illustrations make the concepts relevant and practical to everyday life, the video clips and visuals are engaging and entertaining, and best of all, everything is built on the biblical foundation of stewardship.
Did you know that even the Ten Commandments teach us economic principles? Dr. Sproul clearly demonstrates how economic principles apply not only to finances, but to everything! They are embedded in and woven through the very fabric of life. At it's base, economics is simply the study of the way God ordered the world. And, as the saying goes, "ideas have consequences". So, what we believe about human nature and sin will have a direct effect on our view of economics and on our understanding of our role in this world.
This course has the potential to be used in so many ways!
Going through the lessons and adding a basic economics text (chapter references are given in the study guide) will earn high school credit. In early September, a complete scope and sequence and tests will be available as a free PDF (update: this is now available here!). But, as the title suggests, anyone can benefit from going through these lessons! It would make a unique small group or Sunday School study, or a fantastic youth group resource. Families can go through it together with their middle school and older kids. It would also work great in a traditional school or co-op situation, or even for an interested individual who just wants to understand what economics is all about and how it fits into a biblical worldview!
I just can't recommend this series highly enough!
The cost is more than reasonable, the content is simply phenomenal, and the layout is simple and easy to implement – no advance preparation necessary! I love the convenience of the download option – this way we can watch via Apple TV, on our laptops, or on the iPad or iPods. We will definitely be going through this study as a family, and I plan to use it along with the textbook readings for a semester of high school credit for the Dancer in the near future.
The regular price after release will be only $45.00, but until the release mid-month, the presale is an incredible $29, for either the download or the DVDs! You just can't beat that! I encourage you to check out the clips and first lesson and take advantage of this incredible deal.
Update: A complete Scope and Sequence and Study Guide/Answer Key is now available as a free PDF too.
Disclosure: I received access to this course in exchange for an honest review. All opinions are my own.