It's time once again to share our "classroom" for this school year! We don't have a dedicated school room, so our school takes place in various areas around the house. One end of our living room is where we keep most of our books and supplies. We've redone the walls and floors and I'm in the process of overhauling my bookshelves (new ones are finally on the way!), but everything is basically in the same place as
before
.
Last year for comparison.
In the living room, we have our "active" school shelves that hold all our currently used books. Each child has a shelf of their own with this year's books. The other shelves hold various supplemental books. Timelines, maps, and markerboards slide behind this shelf or the computer armoire and are pulled out as needed and set up on my easel. The top holds our globe and a couple of baskets of supplies. I don't have all of this year's books entirely set up how I want them quite yet, but they won't look much different than this when I'm done. And, if my order comes in as I hope, I will be switching these two inexpensive, old, tired shelves for two nice, new ones in the next couple of weeks.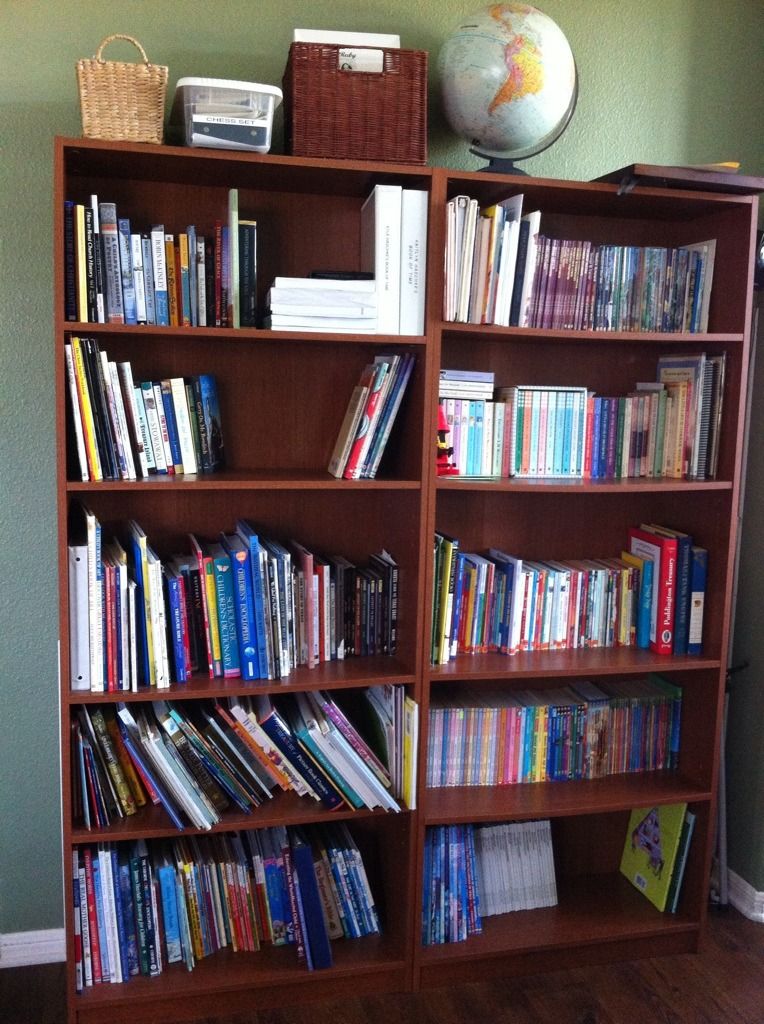 Current school shelves
The coat closet doubles as my supply closet. The bins and baskets hold supplies like glue, colors, pencils, etc., card games, some educational CDs and DVDs, manipulatives, and even baby toys I've saved for visitors. Some shelves hold board games and puzzles. The baskets on the floor hold coloring and activity books for my little guys.
Yes, it's a coat closet, but it's also my supply closet!
The small bookshelf by the closet holds my printer, all my current instructor's guides, answer keys, etc., plus the kids' bins (except for the Dancer's…she prefers to keep hers in her room). Each bin has all their workbooks, folders, etc. plus pencils, pens, scissors, and any other supplies they need. When it's time to start school, they can grab their bin, carry it to the table, and be ready to go!
The small bookshelf/printer stand
Karate Kid (11) does his math on the family computer in the armoire in the school area. The little ones also play educational games here, and everyone does Rosetta Stone here. The Dancer (14) has her own laptop for her math and other subjects.
The family computer
Peanut (6) and Monkey Boy (3) sit at the school table in the school area for most of their activities, but Karate Kid usually does his seatwork at the dining room table or bar, so that I can work in the kitchen and still be available to interact with him as needed, and the Dancer does all of her schoolwork in her room.
The dining room table
Reading usually takes place snuggled on the couch in the living room.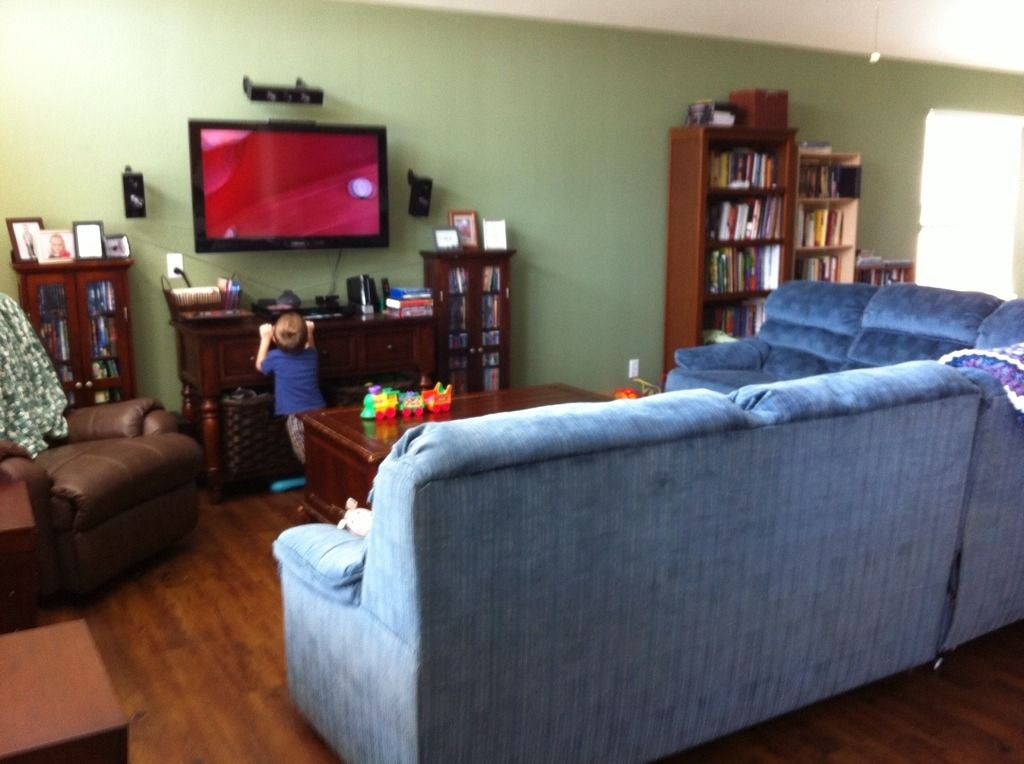 The living room
Then of course, there are science experiments, home economics, etc. in the kitchen, and the bathroom, and outside, and so on. On nice days, we sometimes take all our reading in the backyard and lay outside to read.
Early in our homeschooling journey, I realized that I preferred things this way to confining it all to one room. At first I thought I wanted a separate room, but I found that I like having it integrated with our daily life. This way, I can wash dishes, fold clothes, or do whatever else I need to do while still interacting with the kids as they work, rather than having it all hidden away in a back room somewhere. Instead, we just integrate it right into our daily life and routine.
So, I keep most of our materials, books, and supplies in one central location and then we do our learning where it fits in best! I've been overhauling my bookshelves and storage system and will hopefully share more about that with y'all soon.
If you homeschool, where does most of your schooling take place?
Linked with the "Not" Back to School Blog Hop.