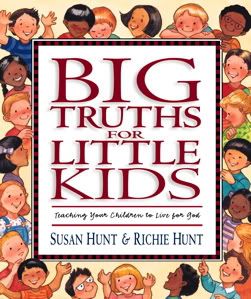 Over the last school year, Peanut (6) and I have been working our way through the book
Big Truths for Little Kids: Teaching Your Children to Live for God
 during Bible time, along with reading through
The Jesus Storybook Bible
.
Crossway
recently asked me to share my thoughts on this neat little book with my readers.
According to the authors, the purpose of this book is:
To teach children that they are created for God's glory.
To show some practical implications of this life purpose.
To repeatedly emphasize to children their need for God's grace to glorify Him.
Big Truths For Little Kids
uses a simple story format to teach young children how to apply the truths in the First Catechism, a simple catechism designed for young children (you can see the questions
here
). Each story begins with several catechism questions, then applies them in a real-life scenario through stories of a brother, sister and friend. The stories illustrate each question and answer with situations children will identify with: birthday parties, sharing toys, new siblings, family camping trips, etc. They end with a "let's talk" section with a few questions to prompt discussion, followed by a "let's pray" section with a key verse and a prayer prompt.
The authors suggest setting a goal of memorizing between five and fifteen catechism questions and answers the first time through the book, depending on your child's age, then going through it again and memorizing more. With Peanut (6), I've focused on trying to memorize one question from each story. We read all the questions and answers, read the story, and discuss. The next day, we review at least one question from the previous story, then read the new questions and stories. Once she has that question down, we pick a question from the next selection to focus on and review it each day for several days.
We've really enjoyed going through this together! It's a special time for us to snuggle on the couch and talk. I love the illustration of the concepts from the catechism in real life situations! The questions and stories have prompted some great discussions that I think have really helped her start to grasp how God's Word is applicable to everyday circumstances.
I really like the catechism version they've chosen to use here. The questions and answers are simple but thorough…perfect for very young children. One thing to be aware of, depending on your denominational background, is that this catechism does portray infant baptism as the norm. Even though we come from a tradition that practices believer's baptism, I took this as a good opportunity to discuss, at an age-appropriate level, why there is a difference of opinion among Christians on this issue and the reasoning on both sides.
I think catechizing our children is one of the very best things we can do to lay a strong foundation for our children, teaching them a framework of biblical knowledge on which to build their worldview. Big Truths for Little Kids is a great tool to help achieve this goal for parents with very young children. I know my own young children retain things better when they're given something concrete, rather than just abstract questions and answers. The simple stories that accompany the catechism questions here do just that…solidifying the concepts in their minds by giving them the story to remember and associate it with.
If you have younger children, I highly recommend checking out Big Truths For Little Kids! For older kids, we've really enjoyed working our way through Training Hearts, Teaching Minds. For those of you with little ones, I'm pleased to be able to give a copy away to one of you! Follow the instructions in the Rafflecopter widget below for multiple opportunities to win!
Thanks so much to Crossway for providing a copy of Big Truths For Little Kids for review and giveaway! All opinions are my own.