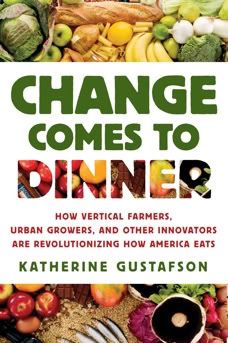 I just finished reading a very interesting book about the sustainable food movement, Change Comes to Dinner: How Vertical Farmers, Urban Growers, and Other Innovators Are Revolutionizing How America Eats
. In it, author Katherine Gustafson explores various aspects of the movement, from a "farmer's market on wheels" to high-tech vertical gardening in shipping containers, and everything in between.
Ms. Gustafson's journey all began because of a package of heirloom beans. These delicious beans and the whole concept of "heirloom" foods made her ponder why she'd never given much thought to where her food came from before. While she grew up in a family that consumed a fairly healthy diet, it was also one where, as she said,
"…we ate to live, not lived to eat. We did not regard food as something that deserved over-much attention or effort. We ate home-cooked meals that always included vegetables of some kind, so we were a far cry form the modern fast-food-munching families bemoaned so extensively in today's media. But just the same, it never occurred to us to object to the tastelessness of the canned beans and out-of-season hot house tomatoes we ate or to wonder how and at what cost they had been created."
As she began to delve into these issues, she concluded that our culture as a whole has become completely disconnected from the sources of our food:
"But the point is that I grew up with the foodways that had been passed down to my parents, which were the ways of the industrialized world. People of their generation likely had family members-grandparents perhaps-who were involved in agriculture, so that farming was not a forbiddingly foreign concept, yet they grew up by and large as the guinea pigs of new, industrial food production methods. Their children-me, my siblings, and our peers, one more generation removed from farms and fields-were solidly ensnared in the corporate net. I was, I would venture to say, part of the first American generation whose entire experience of food was mediated by the industrially supplied grocery store."
Investigating deeper into the industrial food system, she saw more and more how this system is to the detriment of not only our health and the environment, but ALL aspects of society as a whole. Eventually becoming a writer on sustainable food for an activism website, she found herself constantly writing about depressing subjects like E. coli outbreaks, contaminated groundwater, childhood obesity, and so on.
In the midst of this bleak picture, she began to look for hope. She was determined to search for "the people who dared to strike out on their own to build a new vision of an alternative food universe," and she discovered that:
"All around us, this country is in the midst of a transformation characterized by a swelling wave of inspiring, hopeful action to address how we grow, process, distribute and eat our food."
She set out on a "hoperaking" (as opposed to muckraking) journey, to visit these people and discover what they're doing. Her journey took her to fifteen states and the District of Columbia. Change Comes to Dinner documents her journey. She visited small enterprenuers like the operator of the school bus farmer's market, groups utilizing the internet to connect producers and consumers, schools with education initiatives for children, prison programs, community gardens, people using high-tech methods to create greenhouses in urban settings, and more. Each has it's strengths and weaknesses, and each addresses a different aspect of the larger issues.
Change Comes to Dinner does a great job of showing the huge diversity of the sustainable food movement. There are young and old, conservative and liberal, low-tech and high-tech approaches-the variety is just endless! This is not a monolithic movement, and in reality, multiple approaches are needed to achieve success. Not only that, the positive focus on the diverse efforts and successes of sustainability was refreshing! Of course, it's important to be informed about the latest FDA debacle or Monsanto lawsuit, but we need to hear about the good stuff that's going on too!
I thoroughly enjoyed this book. I definitely shared Ms. Gustafson's experience of growing up in a generation that was largely disconnected from the source of our food, and my journey in many ways paralleled hers. She has an entertaining, witty style of writing and the stories are incredibly interesting! I found them inspiring. I had no idea of the depth and breadth of innovative people involved in some way with countering the industrial system with sustainable alternatives!
Change Comes to Dinner delivers on it's promise to "hoperake". Sometimes making any inroads to the monolithic system that's developed over the last 50 years or so seems impossible. All the education and activism seems like nothing more than a drop in the bucket. But reading the stories here left me encouraged and hopeful. The scope of the movement is just amazing, and these stories give a great "collage" of the innovation and diversity within it. To see what I mean, check out Locavore U.S.A., a free Kindle download that is an actual chapter from  Change Comes to Dinner. This will whet your appetite to read the whole book! I really appreciate what Ms. Gustafson has done here. If you're even remotely interested in alternative approaches to the industrial food system in this country, you'll find the stories told in this book fascinating.
Thank you to St. Martin's Press for the galley copy of this title to review. All opinions are my own.

Linked with Real Food Wednesday, Simple Lives Thursday, Schneider Peeps, and Fight Back Friday.