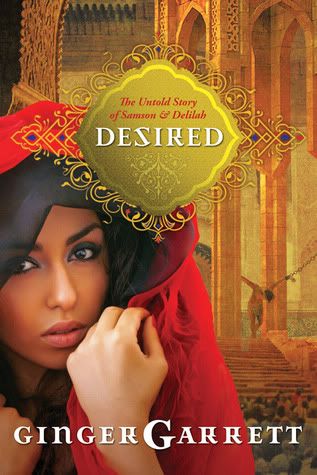 When I have time for leisure reading, I tend to gravitate to historical fiction. Biblical historical fiction in particular is fascinating because even though the authors by necessity must take some license with the story, when done well, it can really bring to life the stories and cultures of Biblical times.

I first discovered Ginger Garrett when I stumbled onto her novel Dark Hour, which is based on the events recounted in 2 Chronicles 21-23 and 2 Kings 10-11. In that book, she took a rather obscure story and really made it come alive (you can read a short review I did here). I was an instant fan!
Ms. Garrett's latest offering is Desired: The Untold Story of Samson and Delilah . If you're familiar with the Biblical account, you know it's not a pleasant, feel good story. There is no "happily ever after" here. Still, I couldn't put it down. The story is told from the viewpoints of both Samson's mother, who is never named in Scripture, and Delilah herself. I love how Ms. Garrett takes lesser known characters who are often overlooked, or who we don't know much about, and fleshes them out.
The story was haunting and poignant. The main characters are well developed and the attention to historical detail is impressive. It was fascinating to get a glimpse into the culture of the Philistines of that time, and frankly, a little unsettling to find myself having sympathy for Delilah, who is usually portrayed as a one-dimensional temptress and villain. Of course Delilah's "back story" is pure speculation, but it still gives food for thought. What was her story and why did God choose to allow her to play the part in His plan that she did?
And, despite the lack of a happy ending, the novel ends with a powerful note of hope: hope in God, not hope in our circumstances. A reminder we all need. As with her other novels, I loved the author's note at the end, where she offers more historical background and insight into why she chose to develop the characters the way she did.
If you prefer light, fluffy stories with happy endings, you may not enjoy this one. But if you appreciate engaging stories that challenge your assumptions and make you think, Desired: The Untold Story of Samson and Delilah might be just what you'll like. It's definitely a hit in my book! I highly recommend it.
Thanks so much to David C. Cook Publishing for providing a review copy of this title for review. I wasn't required to give a positive review and all opinions are my own.