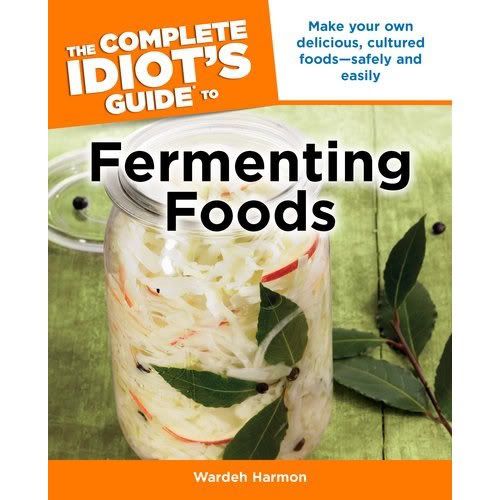 For the last several years I've been reading and enjoying Wardeh Harmon's blog, GNOWFGLINS. I love her approach of enjoying "God's Natural, Organic, Whole Foods, Grown Locally, In Season".
I've also been putting up lactofermented pickles and sauerkraut and making milk kefir off and on with tasty results for the last four or five years, but it wasn't until I began Wardeh's ecourses a few months ago that I began to think about branching out and trying other foods. I'm now regularly making water kefir and all kinds of sourdough, thanks to the encouragement from the classes.

Fermentation has been used as a technique to preserve food for thousands of years. Before the advent of refrigeration and other preservation techniques, every culture used variations of fermenting to keep food from spoiling and/or to make it more digestible. We can thank this method for giving us bread, wine, cheese, and numerous other familiar foods. We also now know scientifically what ancient people knew only intuitively: fermentation greatly increases the nutritional value of the food and makes it incredibly beneficial to our bodies! These were the original "probiotics" and so much more! They are truly superfoods. For example, did you know that the Vitamin C content of traditionally fermented saurkraut is 20 times that of unfermented cabbage? And that's just one small example. We haven't even touched the presence of enzymes that aid digestion, beneficial bacteria like lactic acid, and the breakdown of harmful substances that occurs during the fermentation process. If you've never investigated the health benefits of fermented foods, please take the time to investigate it. Read on for an excellent resource to get you started!
The more I learn, the more I'm convinced that lactofermented foods should be a part of everyone's diet. They're an essential tool in the health of our families. We should all be consuming at least small amounts every single day to keep our immune systems functioning well. But it can be intimidating to get started, or even to branch out to new types of foods. It just seems so contrary to everything we think we know about safe, sanitary food.
So I've been looking forward to Wardeh's new book, The Complete Idiot's Guide to Fermenting Foods,
which came out last month. It hasn't disappointed! Whether you're a complete newbie to lactofermenting or someone looking to branch out a little, this book will be great for you!
It's divided into three parts:
The Fermentation Story lays the foundation with a brief history of fermentation, the health benefits of consuming fermented foods, types of fermentation with brief explanations of how each works, and the nuts and bolts of fermentation (tools, equipment, and signs of a good fermentation).
Fermenting the Fruits of the Vine covers fermenting a wide variety of fruits and vegetables-pickles, krauts, relishes, salsas, chutneys, condiments, natural sodas and other beverages, even beans and grains.
Surf to Turf Fermenting delves into fermenting dairy and meat-from basics like sour cream and yogurt to simple cheeses, plus brining and smoking meats and more.  
I really love this book! It's clearly organized, thorough, and super user-friendly! The background information in part one lays a great foundation for the practical, hands-on sections that follow. Even though I've been doing some fermenting for several years, I learned plenty! I recognized some recipes from the fermentation ecourse, plus plenty of new ones. There's a huge variety, so there's bound to be something to fit everyone's taste! We love the two pickle recipes we've tried so far, and I have a delicious smelling zucchini relish ready to break into any day. We're really enjoying the ketchup and mayonnaise too. And I haven't even made it to any of the recipes in part 3 yet!
I love having it all in one handy reference. Veteran fermenters will appreciate Wardeh's clear, simple, explanations, tips, and instructions, while "newbies" will find thewhole process much less intimidating.
If you've never tried lactofermenting before and feel nervous or overwhelmed…do yourself a favor and get this book!
If you've been fermenting for awhile but would love some fresh inspiration and a variety of new ideas to try…do yourself a favor and get this book!
Wardeh has given us a wonderful resource in The Complete Idiot's Guide to Fermenting Foods. I know it's become an indispensable reference for my kitchen!
Linked with Monday Mania and Real Food Wednesday.