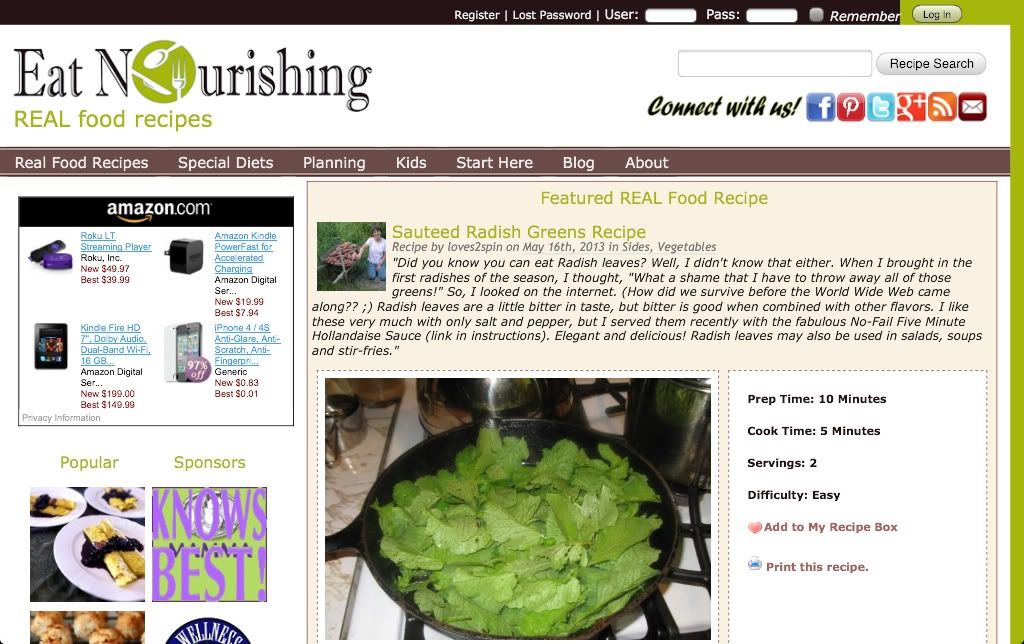 I've gotten pretty good over the years at adapting recipes I find online or in cookbooks to be closer to "real food" ingredients by doing things like substituting my Homemade Condensed Cream of Chicken Soup for canned soup or my Easy Homemade Pizza/Pasta Sauce for canned/jarred pasta sauce, etc. But I've always thought it would be nice to have a recipe site like AllRecipes or Cooks.com that catalogued real food recipes. Well, recently I was introduced to Eat Nourishing. It's just what I hoped for, only even better! I'll let Jami, who runs the site along with her husband Anthony, tell you about it:

I want to thank Kara for letting me do a little post on her blog about our site. One thing I have loved about this whole process is getting to meet some wonderful bloggers and building new relationships.
The reason for this blog post is to tell you all about a new site that my husband and I have teamed up together to create. It all began when I read Nourishing Traditions (NT) by Sally Fallon Morell. Our family always ate what I deemed as "healthy." After all, I believed we should be practicing good stewardship with our health and homemaking. Was I  in for a ride (and subsequently my family)! I read The Maker's Diet by Jordan Rubin a few years before reading NT and felt convicted at that time. I needed to take action and clean up our diet, but just couldn't fathom how our single family income could ever support eating organic whole foods, let alone grass-fed meat. Something happened and ignited inside of me when I read NT.  
I realized that there were more than just health reasons for changing our diet, but moral and spiritual reasons as well. I wanted to honor God and his creation in whatever I did (1 Cor 10:31), to the best of my ability. I felt we could do better in this area. After speaking to my husband about it, we agreed, somehow, to eat 

real food on a budget

. Now, over a year later, we've been eating a "Traditional Foods (aka 

Real Food

)" diet as described in NT and our family's health is better than ever (my husband even lost 45 pounds!). 
We struggled at the beginning. The biggest challenge I had in switching to a real food diet was menu planning. This is an area I fell short in previous to making the switch. Eating real food takes extra planning, since you prepare everything from scratch and many things are done slowly. I was spending too much time converting all the recipes I wanted to try into recipes that only incorporated real food ingredients. 
What I needed was a real food version of AllRecipes.com. That wish turned into an idea, and with the help of my awesome website developing husband, who is currently attending seminary, we made the idea come to life. 

Eat Nourishing

 launched in early October 2011 and has grown in leaps and bounds. Apparently, I wasn't the only one who thought this website should exist. 
All of the recipes on Eat Nourishing consist of whole, unrefined ingredients and also follow traditional preparation methods. Nothing comes out of a box and only rarely out of a can. On Eat Nourishing, you can browse recipes by course, special diet, or planning needs and save recipes to your very own recipe box so you can easily find them later. All of our recipes are submitted by the community, which consists of bloggers and stay at home mom's like us! We really want this site to be a community effort to make it easier for people to cook and eat real food. It's for this reason that we also launched our 

Sharing Incentive Program (SIP)

 where those who submit recipes to the site for publication can earn an ongoing revenue share for their recipes. 
Of course, there are many ideas and features that we want to implement into the site, but all in His time. I hope you will stop by and check us out. Even if you don't follow a traditional foods diet, there are many great and nourishing recipes that you can incorporate into your regular meal planning.
Anthony is the website designer and tech guy for Eat Nourishing and writes for his own blog eInquisitive. He is currently pursuing his MDiv. in response to a call to the pastorate. When he is not lovingly supporting his wife's ideas, he enjoys playing guitar and making cheese. 
Jami Delgado manages Eat Nourishing while homeschooling her three little ones and trying to maintain peace and order in the home. She loves experimenting in the kitchen and is constantly trying to learn something new.
The site is beautiful and well laid out. I've signed up and can't wait to get some of my recipes uploaded! Check it out!!






Linked with WFMW at We Are THAT Family.