I'm a firm believer in the value of teaching Latin to children (or anyone!).
It improves vocabulary (fully 60% of our English words come from Latin!), aids in English grammar, and is an excellent foundation for learning many other languages. Over the years, I've looked at and tried several different Latin programs with my kids. Several years ago I found one I liked and the Dancer has been working her way through it ever since.
The problem is that as much as I like it, it's time-consuming, and when we're short on time (which seems to be often!), Latin is one of the first things that gets bumped. Our core subjects come first and other stuff gets put on the back burner. Hence the "several years" to get through what should have been a one year unit!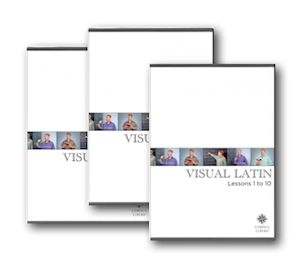 So when I was offered the opportunity to review
Visual Latin
, I was intrigued. The way it's set up and the philosophy behind it were very appealing to me.
It boils down to the idea that learning happens best when it's fun and the students are relaxed and enjoying themselves.
And when it comes to language, nothing beats immersion. So, the creators of
Visual Latin
(two homeschool dads!) have taken several elements:
an instructor who obviously knows and loves his subject
humor
learning by doing

…and created a fun, flexible, and simple to implement curriculum that is effective and most of all, doable for busy homeschoolers!!
Each lesson consists of three short video segments and three simple PDF worksheets. The video segments are 5-8 minutes long each. The students watch a segment, do the corresponding worksheet, then move to the next segment. That's it. The first segment introduces a grammar concept. The second segment applies the grammar concept to sentences, showing it in actual practice. The last segment actually has the students do a small section of translation. The recommendation is to do the video segments and worksheets, then rewatch the lesson the next day (or later in the week) to solidify the concepts. We've been doing all 3 segments and worksheets on one day, then rewatching the lesson a day or two later, doing one lesson per week.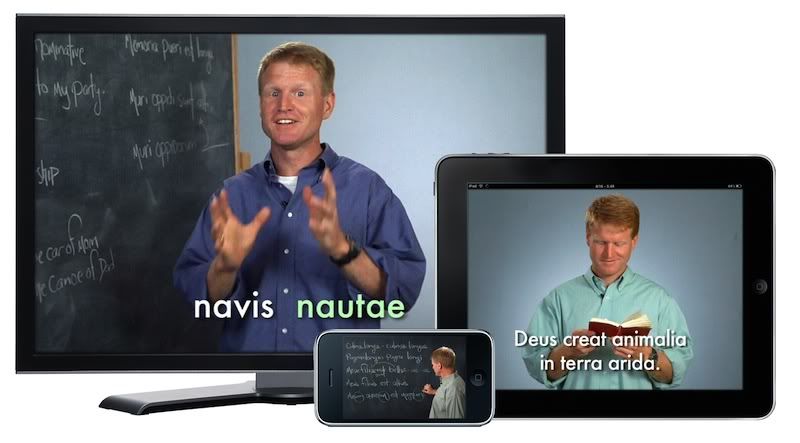 The program can be purchased on DVD with the PDFs included on the disc, or everything can be downloaded directly from the website. The downloads are in a format that allows them to be played directly on the computer through iTunes or uploaded on an iPod, iPhone, or iPad. There are also additional resources like flashcards, vocabulary lists, and useful links available for free on the website.
So what do we think of it?
We're loving it! In fact, I went ahead and purchased the rest of Latin 1 (Lessons 11-30) so that we can keep on going when we finish what we received for review (Lessons 1-10). I love the simplicity and efficiency of the lessons. Compared to the textbook, DVD, activity book, and reader required with our other program, the short videos and printable worksheets are a breeze! The flexibility is great! I can print as many or as few worksheets as needed, and we can even load the videos on one of our portable devices to use away from home or wherever we might need to take them.
The time factor is also a big one for me. I always feel vaguely guilty that we don't get as much done in languages, art, music, etc. as I'd like to…but we only have so many hours in the day! These lessons are so uncomplicated, offer so many options for viewing, and require so little time, that we haven't really had any trouble adding then in. The instructor, Dwane, says that they've tried to make it "short, repeatable, and portable". I think they've certainly succeeded!
The kids love the humor and conversational tone that Dwane uses. They love that he's "real". Sometimes he stumbles over his words or makes a mistake. Rather than editing those things out, a message saying "He meant to say such and such" flashes on the bottom of the screen. This is a real person like them, and if he can master a language so can they. They also feel like they're actually accomplishing something since they get to start translating right away in the first lesson.
Most of what we've covered so far has been review for the Dancer (13) since she's been through most of the first unit of the other curriculum we've been using, but it's been a great review for her. Karate Kid (10) has had very little trouble picking up the concepts and completing the worksheets with virtually no assistance, even with little to no background in the language. I had hesitated to start him on the other program, not only because it's time-consuming, but because it involved so much reading and writing, which he doesn't enjoy near as much as his sister.
Here's a short video of Dwane explaining about the program:
Visual Latin | A Quick Explanation from Compass Cinema on Vimeo.
The target audience is generally upper elementary and up, although any child who can read and write reasonably well should be able to do it without much problem and pick up plenty. The prices are incredibly reasonable: all thirty lessons of either Latin 1 or Latin 2 can be purchased for $80.00 on DVD, or ten lessons at a time can be purchased for $30.00 on DVD, $25.00 to download.
The
website
is a great resource. I encourage you to check it out. There's a full sample lesson available to watch, and you can also download six free lessons to try out: four intro lessons and two full lessons. Also be sure to check out the
Visual Latin Facebook page
. Each day they post a fun "word of the day".  My oldest, who has her own Facebook account, enjoys these humorous but educational posts (and so do I!).
Visual Latin is an overall winner in my book. It's engaging, not time consuming, versatile, and effective. Not to mention just plain fun! If you're at all interested in a Latin program, you've got to check it out!

Disclosure: I received the first ten lessons of Visual Latin free for review purposes. I was not required to give a positive review, and all opinions expressed are solely mine.