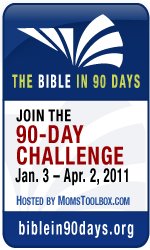 Day 90 is here!!
I can't believe it's over. What an adventure!  
I really loved how I was able to get a "big picture", "birds eye" view of God's entire plan of redemption, spanning both Old and New Testaments. I have understood the historical "timeline" if you will, and even the flow of the books themselves, but it now has a whole new depth. I think especially reading it in such a short period of time allowed for picking up on things that might not be picked up on reading it in a longer plan. When I got to the Gospels and Epistles, it had literally only been a few weeks since I'd been reading the OT books that were being alluded to, so it was very fresh in my mind. Much different than flipping back and forth to see the cross references. I could remember reading the reference and what the immediate context was quite clearly.  I especially noticed this when it came to the Gospels, Hebrews, and Revelation.
Another thing I found edifying was reading an entire book in one sitting. This was especially true for some of the longer Epistles, which I've generally read broken up in several readings in the past. Even a book like Romans that I'm very familiar with has a new dimension when read all at once, following the train of thought unbroken. When I reached the Epistles, I ignored where the schedule said to stop and read at least a book at a time, more for the shorter ones. I was especially blessed reading Romans and Hebrews this way. 
Of course, I still love and value in depth study. It's absolutely necessary. There's value in both ways, and in many ways I see that a quick, intense reading straight through and deeper study actually complement each other. I know that things that came to light for me as I read will be applied when I go back to study in depth. I will definitely do the 90 day plan again…I feel certain that each time through will add another layer of depth to my understanding as more and more things jump out or hit home each time.
You can read the rest of my thoughts here.
I'm really looking forward to hearing everyone's thoughts! If you're still wrapping up, keep reading! You're almost there!
I've been blessed to be your mentor and pray for each of you through this whole journey! Thank you for the privilege.
I look forward to seeing many of you back for the next challenge this summer!