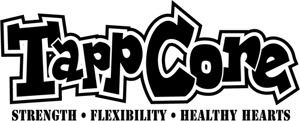 It's been a busy weekend, but I'm finally announcing the winner of Blog Makeover Giveaway #2. Comment #11, Ronda, is the winner of the TappCore Workout DVD!
I'm also excited to announce that T-Tapp has generously given me a special coupon code to share with all my readers! 
Between now and 11/27, you'll be able to receive 10% off anything you purchase at the T-Tapp website. Just use any of the links in my Operation Tone-Up posts or anywhere else on my blog and then enter the code "HOME10" in the appropriate box during checkout for your discount.
Don't forget to enter my giveaway for the novel Petra: City of Stone, and keep an eye out for the next giveaway, which will be up VERY soon! Everyone who enjoys my recipes and kitchen/healthy living tips is going to love this one!
Congratulations to Ronda and thanks to everyone who participated and spread the word!