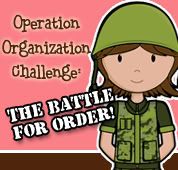 I'm joining Operation Organization Challenge over at Coming Clean this week. I'm actually a week behind…I had planned to start last week and had even taken my "before" pictures, but came down with some type of bug and never got to finish! So, on to this week!
I'm tackling my desk. It's been on my hit list for a while now and it definitely needs to be done before we start school. It has become a catch-all for everyone in the house. I have to admit that I haven't been keeping up with my filing too well either. I'm in the process of trying to go paperless as much as possible, but I have a backlog of stuff that needs shredding and filing.
So, here it is, complete with the cute Easter craft one of my kids gave me:
Ugh! I can't even stand sitting at the computer when it's so cluttered. I have to admit that this is really extreme…the kids had just been using the computer and left some of their papers strewn on it too (no, really!). But still…
Here's some shots of the different "cubbies":
The top left holds our camera, camcorder, and some other electronic equipment, plus blank CDs/DVDs. The top right holds my "mailing center", the answering machine, and miscellaneous office supplies. The drawers hold more supplies. I'd actually worked some on the electronic stuff before this shot, believe it or not!
This is the bottom half. It's not too bad but still needs a little bit of straightening.
I guess I didn't take a "before" pic of the keyboard shelf…it has a paper tray on it that is overflowing with papers that need to be filed or shredded.
So, there it is. I actually made some progress on it last week after I took these but didn't get it totally finished. Check back on Friday for my "after" pictures, and be sure to hop over to Coming Clean to see what everyone else is doing or to join in yourself!